October 1, 2018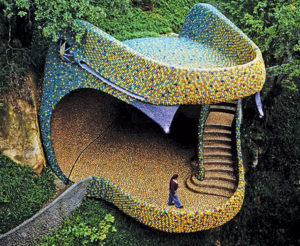 The Nido de Quetzalcóatl (Nest of Quetzalcóatl), a ten-home construction project in Naucalpan, Mexico, by Mexican organic architect Javier Senosiain, is an unusual residential park in the shape of a coiling serpent. Now you can book an Airbnb rental of one of its homes at $220 per night.
Built in 1998, the builder took advantage of the area's natural caves, ravines, and canyons to incorporate the homes into the topography. When completed, they looked like a snake slithering through the canyons, so one of the caverns was turned into its head and a rattlelike structure was created at the opposite end. "The Aztec god has come to life" here, some say.
Check out the property below.

—Mexico.mx