November 28, 2017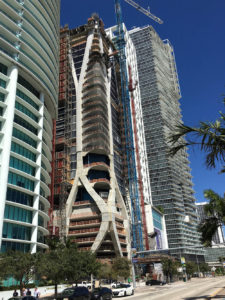 The One Thousand Museum residential tower is currently under construction, adjacent to Miami's Museum Park and on the site that was long home to a MiMo-styled 1960s gas station. The 62-stories' main feature is a sinuous frame on all four elevations, designed by the late Zaha Hadid, who was called the "queen of the curve." The curvy exterior lines are structural, not applied, taking on both gravity and lateral loads.
DeSimone Consulting Engineers designed a four-elevation concrete exoskeleton bracing, with a post-tensioned floor slab system, allowing reduction of core wall thickness and lowering costs while creating column-free interior spans ranging from 30 to 50 ft.
The team used a glass-fiber reinforced concrete (GFRC) formwork system, shipped from Dubai, to form the exoskeleton. The lower floors were created using conventional cast-in-place concrete.
One edge of the building's podium lies just 6 in. from a neighboring building. The design called for a 10-ft.-thick mat atop 211 piles, each 30 inches in diameter, mostly driven down about 155 ft. Crews cast the 9500 cubic yards of concrete for the mat in one continuous placement over 26 hours, requiring almost 1000 concrete trucks.
Scheduled for completion in 2018, the building will include a doubleheight "sky lounge," an aquatic center with a lap pool extending to the glass curtainwall, and a tower topped by a private helipad. It will house only 83 residences (starting at $5.5 million) on 50 floors, including eight full-floor penthouses.
– ENR