March 5, 2023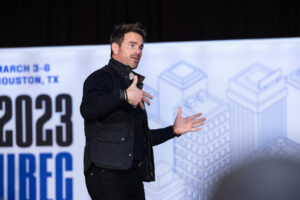 A full slate of educational sessions started early Saturday morning with "Resilience: What Does that Mean for the Design of Buildings?" Donald R. Scott, PE, SE, FSEI, FASCE, of PCS Structural Solutions, showed images of damaged hospitals and other buildings as he walked through the considerations that go into building resiliency, including the importance of building codes and standards, the public expectation among communities for their buildings to be resilient, and climate impacts on buildings.
Next up was "Stucco on an Island not So Far, Far Away: Directly Bonded Stucco Failure Investigation," presented by Stewart Swing, RRO, RWC, RRC, EI, and Vu Nguyen, both of Terracon. The speakers focused on Portland cement stucco and ASTM C926, Standard Specification for Application of Portland Cement-Based Plaster.
The RCI Foundation Board meeting also took place Saturday morning and included a number of check presentations by IIBEC chapters to the foundation.
Region meetings populated the afternoon, which was anchored by the Opening Ceremony and Keynote from Seth Mattison, who spoke on the future of work and leadership.
The ceremony kicked off with a video showcasing IIBEC's 40-year history—one of many ways the institute is marking its 40th anniversary during this year's convention and trade show. "What a fantastic video!" proclaimed IIBEC President Chris Giffin immediately following the video. "Part of IIBEC's success lies in the partnerships we've built over the last 40 years," Giffin said, highlighting longtime IIBEC supporter and Opening Ceremony sponsor Johns Manville. Giffin listed highlights of his year as president, including meetings that have returned to normal, a diversity and inclusion plan, an updated Code of Ethics, and IIBEC's success in implementing changes to the International Building Code and International Existing Building Code. He also said that IIBEC's Document Competition has been revamped and will now be known as the Excellence in Building Enclosure Consulting Award.
IIBEC Second Vice President Robért Hinojosa followed Giffin, thanking IIBEC volunteers for their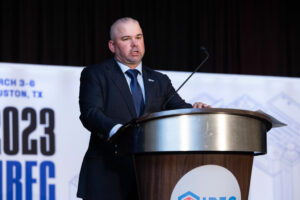 essential role in making IIBEC the premier building enclosure association. He said the previous day's Golf Outing had raised "plenty of money" to support student scholarships, and he recognized the 40 students attending the 2023 convention and trade show with the support of the foundation.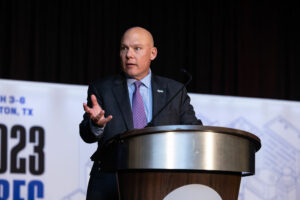 IIBEC Chief Executive Officer and Executive Vice President Brian Pallasch followed Hinojosa, extending thanks to this year's Ruby sponsors of IIBEC's 40th anniversary conference. Pallasch said the year ahead looked bright for IIBEC. "For most of 2022, we were still in recovery mode, fighting our way back from the challenges of COVID," he said. "I know we are all looking forward to 2023 with optimism and a belief that IIBEC's 40th year will be the best yet."
Mattison, the leader of Future Sight Labs, started his keynote address with anecdote about the need for a new roof at a family-owned facility, building on that to discuss challenges in navigating change and transition in the marketplace. "Regardless of where you sit, [growth] is going to take people," he said. He addressed the challenges leadership teams confront, how the role of leader is changing in our new environment, and what it takes to get great talent and to activate it.
Mattison listed three "truths of change": Companies don't change, people do; change is first a
psychological journey and a strategic one second; and, as goes the behavior of leaders, so goes the organization. Mattison stressed truth-telling and trusting in oneself as a way to close the gap from awareness to ownership—a step that leads to action.
Next up was the opening of the trade show at the George R. Brown Convention Center. Attendees explored the latest from a variety of product and service providers, as well as three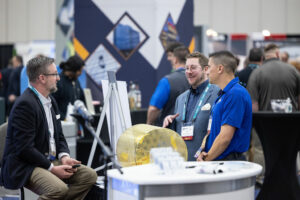 product demonstrations.
The day concluded with well-attended receptions hosted by Siplast and Soprema.
The 2023 IIBEC International Convention and Trade Show continues through Monday, March 6. The 2024 IIBEC International Trade Show and Convention will take place March 8–11 in Phoenix, Arizona.