April 1, 2021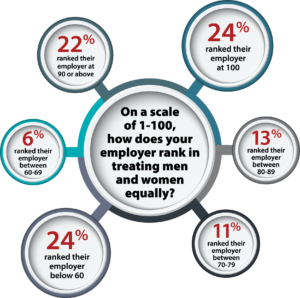 In a workforce survey of over 700 women in construction, 71% of respondents felt that job opportunities for women in construction were increasing, while 28% felt that opportunities were about the same. The survey was released by the National Association of Women in Construction (NAWIC) and Safe Site Check In. NAWIC Executive Director Crissy Ingram noted that the gender pay gap in construction is also much less significant than in the general workforce.
"On average, women in construction earn 99.1 percent of their male colleagues," said Ingram.
When asked "On a scale of 1-100, how does your employer rank in treating men and women equally?" more than half of the respondents rated their employer at 80 or above. 24% ranked their employer below 60.
Survey respondents were also asked about the effect of COVID-19 on their employment, and what safety procedures are in place. Most (96%) stated that their employer encourages employees to stay home if they feel sick, 90% are utilizing social distancing, while 76% see frequent handwashing.
According to NAWIC, "The survey was conducted in February 2021, and 718 NAWIC members participated. Survey participants represent all areas of the construction industry across private and public sectors."
— NAWIC, ConstructionDive, ForConstructionPros.com