July 25, 2017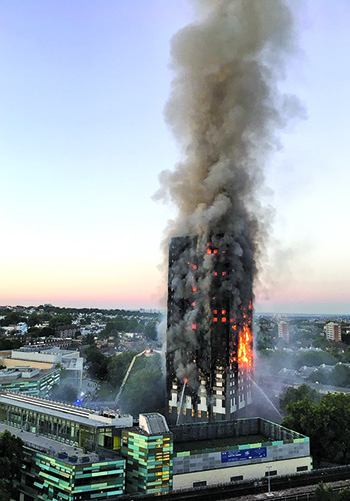 Officials continue to point fingers in the June 14 fire in Grenfell Tower apartments in London, England, which killed approximately 80 people. But the loudest voices are blaming the use of polyethylene exterior cladding for allowing the rapid spread of the blaze. Such cladding is banned in the U.S. on buildings higher than 40 feet.
Polyethylene panels, made of aluminum sheets surrounding a plastic core, were installed in the 2016 cladding refurbishment of the building housing low-income residents. Thousands of buildings across the United Kingdom may have been fitted with similar materials. High-rise buildings in France, the UAE, and Australia with such cladding have reportedly been hit by fires that spread rapidly.
Watch RCI Interface for an upcoming article on fire resistance of exterior cladding.