November 28, 2017
By Brian Gardiner, FRCI, RRC, CCS
Editor's note: This white paper was prepared for RCI and will be disseminated to news media throughout North America in support of RCI's stance on publicly funded construction procurement.
EVALUATING TWO METHODS OF CONSTRUCTION PROCUREMENT
Public procurement of construction projects has evolved into various methods. Not all methods are allowed in all states. This article will examine two options: design-bid-build (open bid) and cooperative (interlocal) purchasing.
Design-Bid-Build
The design-bid-build project delivery method is available in all states (Figure 1).
The owner contracts directly with a designer of record—typically an architect, engineer, or consultant (AEC)—to provide project-specific sealed documents that are advertised and bid by general contractors, subcontractors, and suppliers.
The AEC has no financial interest in the products specified.
There is usually a public bid opening by the owner, where bids are read aloud and recorded.
The AEC typically participates in helping the owner determine bid awards and provides construction administration services.
Cooperative Purchasing
Cooperative purchasing of publicly funded construction is not allowed in all states. Additionally, some states previously allowed cooperative purchasing for construction, but now prohibit its use. Cooperative purchasing bidding and other practices can vary significantly from one cooperative to another.
The cooperative, using its own criteria, determines who is the lowest responsible bidder and awards a multi-year contract, with possible one-year renewals.
The primary entity providing construction services, or vendor, may be a contractor, manufacturer, or another type of business. These entities have an inherent financial conflict of interest when performing as the designer of record.
There might not be a formal written construction agreement between the owner and the vendor. The owner may only issue a purchase order based on the unit price book created by the cooperative and priced out by the vendor (Figure 2).
Bidders in cooperatives are often evaluated for items not included in a design-bid-build project, such as level of financial and sales force commitment to market the cooperative to prospective owners.
DESIGN PHASE
Design-Bid-Build
An AEC is selected by the public owner to serve as designer of record, according to state law.
The AEC is most often selected based on the owner's request for qualifications (RFQ).
The AEC is required in most states to have professional liability insurance.
The AEC hired by the owner usually evaluates the owner's needs and recommends design solution(s) based on the project.
The owner reviews and selects a design solution and agrees to a project budget amount.
The AEC provides professional services according to the owner-AEC agreement (Figure 3).
Cooperative Purchasing
The owner often determines the project scope and preliminary budget prior to contacting a vendor in a cooperative.
Owners sometimes may seek assistance from a cooperative vendor in evaluating the owner's needs, establishing budgets, providing specifications, or providing design services.
Technical specifications written by the vendor typically only include products sold through the cooperative and are, many times, proprietary. Proprietary, single-source specifications, written in the vendor's favor, often result in reduced competition and higher costs.
States may require owners to determine if an AEC is necessary for project scope. Certain states have specific requirements related to AEC selection and what projects require independent AEC involvement (Figure 4).
Cooperative procured construction projects may lack a designer of record, and therefore may lack an independent third party with professional liability insurance.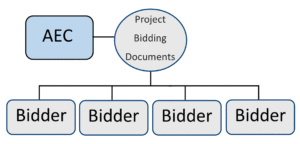 BID PHASE
Design-Bid-Build
Bidding documents are typically available for local review in plan rooms and other systems.
Owners usually advertise locally in print and online media. Certain states have a specific requirement for what constitutes proper advertising of bid proposal requests.
The owner and AEC may conduct a pre-bid meeting, usually at the project site if it is a renovation or building addition.
The AEC issues addenda to clarify items in the bidding documents.
The owner may use a variety of criteria to evaluate bid proposals, including price, safety record, past performance on similar projects, and other factors.
The owner determines the lowest responsible bidder and awards a construction contract.
Cooperative Purchasing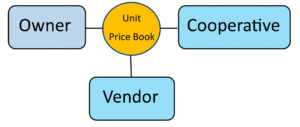 Cooperative purchasing of construction is most often bid on a unit-price basis statewide or nationwide, well in advance of a construction project. Vendors are not aware of what, where, or when projects will be awarded; therefore, unit prices must be priced accordingly.
No bidding documents are available for review in local construction plan rooms by local contractors, subcontractors, and suppliers.
Usually there is no public notice posted in local news media. Cooperative vendors may or may not seek pricing from local subcontractors or suppliers on a private basis.
Audits indicate there is a lack of an objective, independent third party on most cooperative construction projects to evaluate applicable unit prices, quantities, and various price modifications that may or may not apply to one project (Figure 6).
A cooperative may have only one vendor listed for a work item, such as roofing. If more than one vendor is listed nationwide, there may be some listed that have a limited market area.
The cooperative often charges a fee based on the total cost of the project to the vendor, usually between 1 to 4 percent.
Audits have consistently discovered a significantly higher cost to procure construction projects through a cooperative.
FORM OF AGREEMENT AND STANDARD CONSTRUCTION FORMS
Design-Bid-Build
There are standard time-tested forms of agreement between the various parties involved in the project, available from multiple providers, such as the American Institute of Architects (AIA).
Public entities may have their own form of agreement based on the design-bid-build project delivery method.
Several standard forms are available from organizations such as the Construction Specifications Institute (CSI), for a variety of construction administration activities.
Cooperative Purchasing
There appear to be no standard agreement forms available for a cooperatively procured construction project. It may be possible to use standard forms to fit cooperative procurement, if modified by a knowledgeable party.
Certain public entities may have developed a form of agreement that is tailored to the cooperative procurement method.
Agreement between owner and cooperative vendor is critical to establishing appropriate rights and responsibilities of the parties. Previous audits and studies have discovered problems and recommended owners provide adequate due diligence to ensure cooperative procurement complies with the applicable laws.
SUBMITTALS
Design-Bid-Build
Submittals are required in most design-bid-build construction projects.
Submittals are critical in determining what the contractor intends to install and whether it complies with contract documents.
Pre-construction submittals often include sample warranties, line-item cost breakdowns for pay applications, and other items important to construction administration.
Cooperative Purchasing
Submittals do not appear to be required for cooperatively procured projects, unless the owner specifically requires them as part of their due diligence.
It is unknown how the owner determines upfront compliance with unit price book product descriptions and specifications.
If an independent AEC is not involved in construction administration, it is critical that the owner determine what cooperative vendor construction submittals are appropriate.
Pre-construction submittals help ensure that what the owner will be paying for in his/her project matches unit price book descriptions and prices. Audits indicate a lack of documentation for pay application invoices.
CONSTRUCTION PHASE
Design-Bid-Build
The AEC provides construction contract administration on most design-bid-build projects.
Construction contract administration by the AEC is dependent on what is required by the owner/AEC agreement. These are common items included in most agreements:

Review submittals and shop drawings.
Participate in pre-construction meeting.
Visit the project site at intervals to observe and report.
Review contractor pay applications.
Review punch list items.
Review closeout documents.
Cooperative Purchasing
There may not be an independent third party to provide construction contract administration.
Certain owners may provide construction administration, depending on their staff.
Audits have indicated a lack of construction administration on construction projects procured with cooperative purchasing.
SUMMARY
Cooperatives may function best when there is a competitively bid price book for commodity products. A well-defined commodity, such as printing paper, makes it easy for owners to conduct appropriate due diligence by comparing prices—both inside and outside the cooperative. Audits, studies, and lawsuits indicate that cooperatively procured construction projects typically:
Are more expensive than construction projects procured with other methods.
Lack a state-law-required AEC who would provide contract documents and serve as designer of record to protect the health, safety, and welfare of the public.
May take less time to procure, but make it much more difficult for the owner to conduct adequate due diligence in order to ensure best value.
Lack participation of local contractors and suppliers.
Are much less transparent to public scrutiny.
How to take Local Action
Make inquires of local taxpayer-funded entities to determine if cooperative purchasing is used to procure construction projects.
Meet with public administrators and educate them on why construction projects do not belong in a cooperative.
Alert local news media to investigate overspending and loss of local jobs on construction projects.
Get active politically at school board meetings and with city council and state/provincial government bodies.
What one person does can make a difference! Cindy Shelor, owner of John T. Morgan Roofing and Sheet Metal, was instrumental in prohibiting cooperative procurement of construction in Virginia. Watch this video to see how: http://procurement-reform.org/home-box/in-the-news/news-videos-about-cp/video-contractor-testimonial/.
DISCLAIMER – Accuracy of the sources referenced in this analysis has not been independently verified. RCI, Inc. is not liable for errors in its summaries. Source documents should be consulted to confirm accuracy and for a complete understanding of the referenced findings. If legal or other expert assistance is required, the services of a competent professional should be obtained. No copyright is claimed in any of the referenced source documents.
REFERENCES
U.S. Department of the Interior. "Proper Use of Cooperative Agreements Could Improve Interior's Initiatives for Collaborative Partnerships." January 31, 2007. "Nearly all (116 of 119) of the cooperative agreements reviewed were awarded without clear legal authority."
Letter from Minnesota Office of the State Auditor to St. Cloud Area School District. September 15, 2015. "Proprietary specifications effectively eliminate competitive bidders. Minnesota law forbids this practice: 'When any county, city, town, or school district calls for bids for the purchase of supplies or equipment, specifications shall not be so prepared as to exclude all but one type or kind but shall include competitive supplies and equipment.'"
Indiana State Board of Accounts. "Examination Report of the Wilson Education Center." February 5, 2010. "No information was presented for examination showing how the AEPA's [Association of Educational Service Agencies Partnership's] bid process would encourage competition and whether the bid process used an objectively measurable basis to determine the lowest responsible and responsive bidder."
Maryland Office of Legislative Audits. "Financial Management Practices Audit Report – Baltimore County Public Schools (BCPS)." July 2, 2015. "BCPS is paying a significantly higher cost per square foot for roof replacements compared to other local school systems, and could not adequately justify the rationale for its practice of using the same roofing contractor for a number of years."
Arizona Office of the Auditor General. "Fraud Alert – Purchasing Cooperatives." May 16, 2011. "When purchasing through a cooperative agreement, adequate due diligence is critical to ensure the cooperative is complying with applicable laws and regulations, and conducts business in an ethical manner."
Bowling Green Internal Auditor's Office. "City of Bowling Green Purchasing Office Audit." January 14, 2013. "Without proper documentation to verify that items purchased are contained within the appropriate State Pricing Contracts or applicable cooperative purchases with other local public agencies, the City will be in violation of adopted Kentucky Revised Statute (KRS)."
Office of Program Evaluation & Government Accountability (OPEGA) of the Maine State Legislature. "State Contracting for Professional Services: Procurement Process." September 2, 2008. "OPEGA identified a number of areas of possible concern with Cooperative Agreements related to the ability to oversee and monitor budgets and costs related to those Agreements."
Virginia Joint Legislative Audit and Review Commission. "Use of Cooperative Procurement by Virginia School Divisions." January 25, 2011. "Approaches other than cooperative procurement may provide divisions with opportunities for reducing construction costs."
U.S. Department of the Interior. "Proper Use of Cooperative Agreements Could Improve Interior's Initiatives for Collaborative Partnerships." January 31, 2007. "Using cooperative agreements in lieu of contracts increases the government's exposure to fraud and misuse of federal monies and ultimately jeopardizes the end performance of Interior partnerships."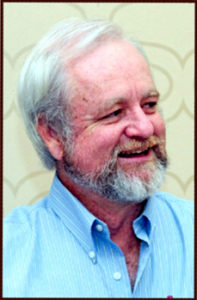 Brian Gardiner has practiced consulting for over 30 years. He is a past director of both RCI, Inc. Region IV (1995-1998) and the Building Envelope Institute, Inc. (2005-2006). Brian has been awarded the RCI, Inc. "Outstanding Educator Award" for presenting at numerous seminars. He is past chair of RCI's Advocacy Committee and currently assists RCI with procurement issues affecting its Consultant members.