November 28, 2018
---
CAC-RCI Hosts Annual Fall Meeting
By Chicago Area Chapter Board Director Anne M. Frigo
The Chicago Area Chapter of RCI, Inc. (CAC-RCI) hosted its fall meeting and program on Friday, November 2, 2018, at Revolution Brewing BrewPub, located in the Logan Square neighborhood of Chicago, IL. A mixture of building consultants, contractors, architects, engineers, facility managers, and product manufacturers participated in the one-day meeting and program that featured lunch, two technical presentations, a brewery tour, and a networking happy hour.
Tabletop exhibitors Architectural Building Solutions (ABS), Soprema, Sika Sarnafil, SJ Mallein & Associates, and Hunter Panels, offered a wide range of product displays and information for meeting attendees, and sponsored a networking happy hour following the meeting.
The one-hour technical sessions included "Managing Project Specific Details – Real time Collaboration Between the Design Professional and Product Specialist" by Dave Kimball, PROSOCO; and "Wind Warranties vs. Wind Uplift Requirements for Roofing Systems" by Joe Schwetz, Sika Sarnafil.
Following the meeting and program, attendees were offered a private guided brewery tour that provided an up-close glimpse of the brewing process, packaging, and bourbon barrel-aging at Revolution.
Overall, the afternoon was filled with great speakers, networking, and delicious beer.
---
Georgia Chapter Holds Golf Tournament
By Georgia Chapter Vice President Rich Chapman
On October 12, 2018, the RCI Georgia Chapter held its annual Stanley Gerson Memorial Golf Outing. The tournament is held in memory of Stanley Gerson, a long-time member of RCI Georgia and coordinator of golf outings. Gerson passed away suddenly in 2013. This year the coordinator's torch was passed from Joe Morgalis of Williamson Associates to James Hoag, the Carlisle rep at CRS Supply. The tournament was held at the Heritage Golf Links in Tucker, GA. Sixty players participated in the tournament. With a team score of 52, the guys from Peachstate Roofing took the day. The weather was sunny and clear with a high of around 75, a perfect day for golf. A great time was had by all.
---
Rooftop Quality Assurance Successfully Hosted By Mid Atlantic Chapter
By Mid Atlantic Chapter Secretary Julie McDonald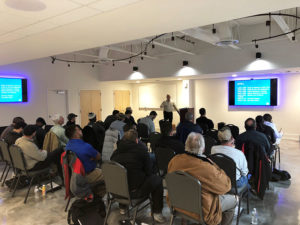 The Mid Atlantic Chapter hosted the Rooftop Quality Assurance course at the Soprema Training Center on Tuesday, November 6, 2018. The chapter had an impressive 27 attendees. A percentage of proceeds from the event will go toward future scholarship contributions both locally and to the RCI Foundation. RCI Mid Atlantic would like to thank its table sponsor, FiberTite, and venue sponsor, BEST Group for providing the event space and catered lunch. The chapter would also like to thank members David Hawn and Derek Cundiff for donating their time and offering their experience to present the class.
For more information about this event and future events or other chapter information, visit the Mid Atlantic Chapter website at www.rcimidatlantic.org, or contact Julie McDonald at secretary@rcimidatlantic.org, or Dan Mathews at president@rcimidatlantic.org.
---
New England Chapter Calls for Nominations, Announces Holiday Party
Call For Chapter Leader Nominations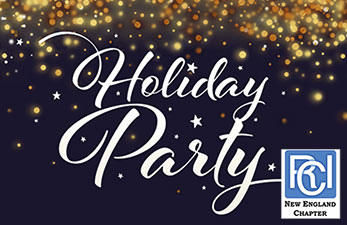 The New England Chapter of RCI, Inc. has issued a call for nominations for the following offices:
President
Vice president
Secretary
Treasurer
New England Chapter members can submit nominations. To submit a nomination or volunteer and be considered for the chapter board, please contact Shawn Vetere or Samuel Moores. Voting will be held at the Holiday Party on December 6.
New England Chapter Holiday Party
On Thursday, the December 6, 2018, from 6:00 p.m. to 9:30 p.m., the New England Chapter will host a holiday party at The Lenox Hotel at Solas, 2nd floor, 61 Exeter Street at Boylston, Boston, MA. Email Shawn Vetere to RSVP by Thursday, November 29th at 12 noon.
---
Ontario Chapter Will Attend Show, Host Christmas Luncheon
By Jay Campbell
The Ontario Chapter of RCI, Inc. will be participating in The Building Show at the Metro Toronto Convention Centre, which will be held November 28 through November 30 in Toronto. The RCI Ontario Chapter will have a booth at the annual tradeshow, which provides the chapter with some exposure to the influx of architects, property managers, and students who typically attend the event.
The RCI Ontario Chapter's Annual Christmas Luncheon will take place on December 6, 2018 at Le Jardin Conference and Event Centre. Cocktails, hors d'oeuvres, lunch, and entertainment will be provided in the form of magic and dueling pianos.
Visit the RCI Ontario Chapter website at www.rci-onchapterinc.ca for details on all upcoming events.
Follow the Ontario Chapter on Facebook and LinkedIn for up-to-date event information.
---
So Cal Chapter Hosts Joint Technical Dinner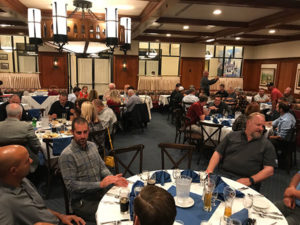 By So Cal Chapter Industry Director Arturo Ortiz Jr.
The So Cal Chapter of RCI, Inc. and the Orange County Chapter of CSI (OCCCSI) were pleased to host their annual joint technical dinner meeting on October 9, 2018, at The Phoenix Club in Anaheim, CA.
The event kicked off with a social hour of great networking among approximately 40 attendees between the two chapters, while they enjoyed some refreshing beverages and delicious buffet offerings. The chapters also had some featured costumes on display from guests who brought their Halloween spirit, which included guest speaker John A. Raeber, independent architectural specifications writer. Raeber's presentation provided key guidance on how to write effective project specifications that are clear, concise, complete, and correct. He made clear the importance of understanding the intent of contract documents so the audience could appreciate how specs should be implemented during construction, and conversely, what specs are not intended to do. Raeber also illustrated the various formats used when working with primary spec writers while also highlighting contrasts between design-build versus designated design approaches. Lastly, he closed out his presentation on what is and isn't important in regards to submittals, listing system manufacturers, and substitutions. The presentation concluded with a Q and A session with great audience participation.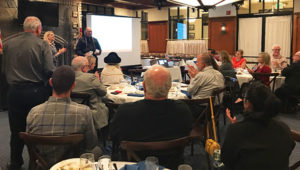 The joint meeting was a success as attendees earned one hour of continuing education approved by RCI and AIA. The chapter thanks John A. Raeber for his well-informed presentation, and extends their appreciation to the So Cal RCI tabletop sponsorships from Robert Larez with Axis Building Envelope Design and Chris Tuzzeo with Hydro-Gard. The So Cal RCI Chapter would also like to thank their friends over at the OCCCSI for another great event in the books.
---
Upcoming Chapter Events
December 5, 2018: So Cal Chapter – Annual Meeting and Holiday Party
December 6, 2018: New England Chapter – Holiday Party | Ontario Chapter – Christmas Luncheon | Puget Sound Chapter – Year-End Charity Event and Mixer
December 7, 2018: Georgia Chapter – Coatings 101 Event | Great Lakes Chapter – Holiday Party
December 12, 2018: Denver Chapter – Q4 Meeting – December Happy Hour and Waterproofing Testing
December 13, 2018: Mid-South Chapter – Lunch and Learn
December 18, 2018: Delaware Valley Chapter – Holiday Party