October 31, 2018
---
Mid America Chapter Announces "Bury the Hatchet" Event
By Mid America Chapter Vice President David Dixon
The RCI Mid America Chapter cordially requests that you save the date to join us for an afternoon of fun at their event, "Bury the Hatchet." The cost is $60, which includes two hours of axe-throwing, a one-hour continuing education presentation, a box lunch, sodas, and water.
You can earn one CEH/LU by listening to a presentation entitled "The 3 Es of Safety: Engineering, Education, and Enforcement," presented by Rob Morehead of 3-E Safety Services, LLC
Date: Thursday, November 15, 2018
Location: 7105 W 105th St., Overland Park, KS 66212
Networking: 11-11:20 AM
Lunch & Continuing Education: 11:30-12:30 PM
Axe throwing: 12:30-2:30 PM
Please mark your calendar to attend this continuing education and social networking event. Invite colleagues and other building envelope associates to join us. We will have a brief membership meeting prior to the axe throwing. RSVP your attendance and number of guests by Tuesday, November 13, 2018 to RCI Mid America Chapter Vice President David Dixon: ddixon@d2marketing.us or 913.544.8689.
The chapter hopes to see you at "Bury the Hatchet!"
---
Mid Atlantic Chapter Hosts Crab Feast, Preps to Host Rooftop QA Class
By Mid Atlantic Chapter Secretary Julie McDonald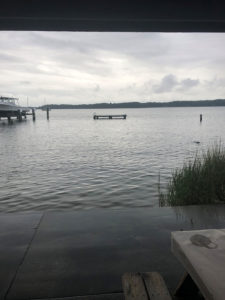 The Mid Atlantic Chapter of RCI, Inc. hosted their Ninth Annual Chapter Barbecue and Crab Feast Social on September 27, 2018, on the banks of the Magothy River in Pasadena, MD with over 30 attendees. They feasted on steamed crabs, barbecue, and beverages while enjoying networking and catching up with peers and friends.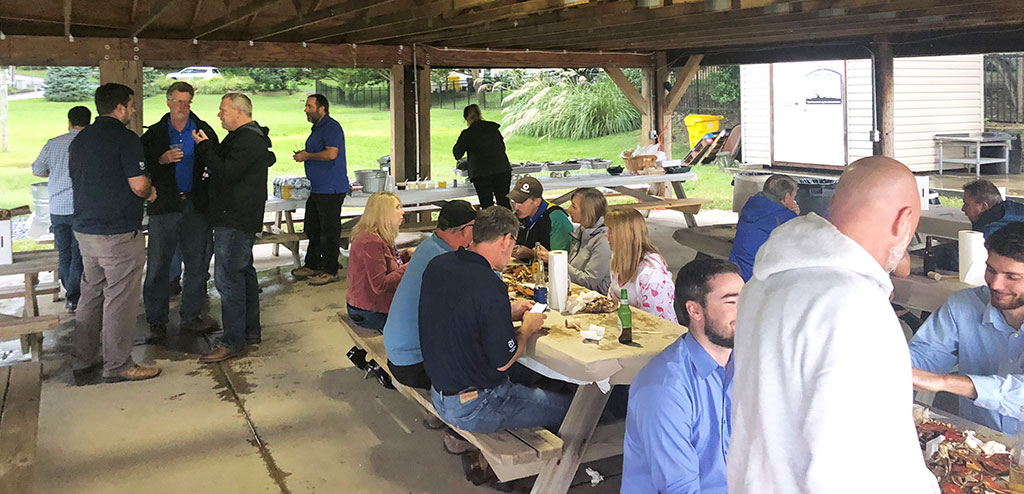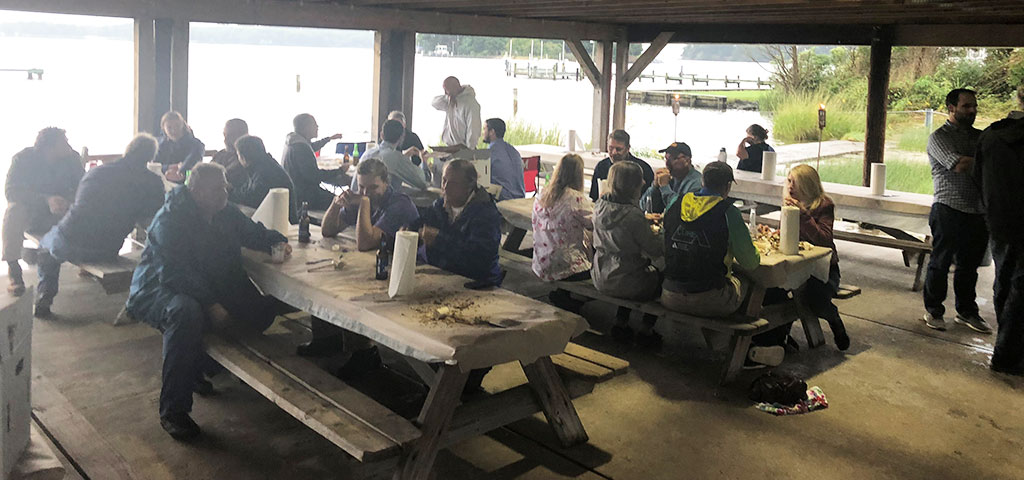 The Mid Atlantic Chapter will host the Rooftop Quality Assurance course at the Soprema Training Center at Convoy Supply at 231 W. Hampton Pl., Capitol Heights, MD, 20743 on Tuesday, November 6, 2018, from 8 a.m. to 5 p.m. Registration will be $275 for RCI member attendees and $375 for nonmember attendees.
This one-day course will provide information regarding duties of the roof quality observer and prepare individuals to provide an independent measure of quality and to assist with project communications and coordination. Instructors will cover fundamentals of quality assurance, component assembly, and quality practice guidelines for a variety of roofing systems, including the role of the roof observer, construction contract documents, daily reports, low-slope and steep-slope roofing, ethics, and codes. This course provides useful information for individuals preparing for the RRO registration. Attendees will be eligible for eight CEHs from RCI/LUs from AIA. RCI Mid Atlantic and their sponsors will be pleased to provide food for breakfast and breaks, and a boxed lunch. Please visit our chapter website for details on registration and hotel accommodations.
For more information about this event and future events or other chapter information, visit the Mid Atlantic Chapter website at www.rcimidatlantic.org, or contact Julie McDonald at secretary@rcimidatlantic.org, or Dan Mathews at president@rcimidatlantic.org.
---
Ontario Chapter Supports First Canadian Building Envelope Symposium, Holds Breakfast Seminar
By Ontario Chapter Director Jay Campbell
RCI Inc. held the first Canadian Building Envelope Technology Symposium in Mississauga, Ontario on September 13 and 14, 2018. The event was situated at the Mississauga Hilton, which is approximately a half hour from downtown Toronto. The two-day symposium was packed with seminars and manufacturers' exhibits. The event was well attended, with over 240 attendees over the two days, including many from across Canada and the United States. There were close to 30 exhibitors that provided booths throughout the symposium, which showcased everything from vapour barriers and insulation to expansion joints and skylights.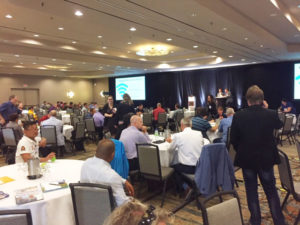 The event opened on Thursday with a continental breakfast and a chance for some leisure time to mingle and take in the exhibits that were being staged by the various manufacturers. The actual seminars began shortly after with the first presentation of the symposium being "Building Envelope Commissioning." Each morning, the symposium provided three presentations, each on various topics related to building envelope technology. Following lunch each day, there were three additional presentations.
This was the first time the event has been hosted in Canada, and the Ontario Chapter was pleased that RCI Inc. considered staging this event here.
The RCI Ontario Chapter would like to thank all the engineers, consultants, manufacturers, and exhibitors from the United States and Canada who attended this event. It was a pleasure having you all participate in the first Canadian Building Envelope Technology Symposium. A special thanks as well to RCI Inc. for allowing the Ontario chapter the privilege of playing host to the event. The symposium was a great way to showcase some Canadian content to the building envelope technology industry.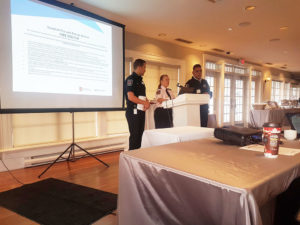 On October 19, 2018, the Ontario Chapter held a breakfast seminar titled "Fire Safety – Care and Control: Who is Liable for Fire Safety?" at the beautiful Angus Glen Golf Club in Markham, Ontario. The seminar discussed the issue of fire-safe roof practices related to fire code due diligence. The local fire marshall's office was brought in to provide informative information on the existing fire code and the consequences of ignoring due diligence as well as fire preventative resources. There was great dialogue following the presentation, and it has opened the door to future discussions regarding this topic.
Upcoming Events:
RCI Ontario Chapter will be hosting a course on "Masonry Wall Systems." Twelve CEHs will be available.
Date: November 22 – 23, 2018
Place: Toronto Construction Association offices, Toronto, Ontario
Speaker: Peter Saunders, Gary Osmond, and Len Gurunlian
RCI National Capital Branch (Ontario) is hosting a breakfast seminar on "The Future of Building Envelope Inspections." Two CEHs will be available.
Date: November 27, 2018
Place: The Ottawa Conference and Event Centre, Ottawa, Ontario
Speakers: Alex Healy, Ted Sheridan, and Matt Ryan
RCI Ontario Chapter Annual Christmas Luncheon
Date: December 6, 2018
Place: Le Jardin Conference & Event Centre
Visit the RCI Ontario Chapter website www.rci-onchapterinc.ca for details on all upcoming events.
Follow the Ontario Chapter on Facebook and LinkedIn for up-to-date event information.
---
SoCal Chapter Gets Technical in Brewery
By Southern California Chapter Industry Director Arturo Ortiz Jr.
The SoCal Chapter of RCI, Inc. was pleased to host its fourth technical dinner meeting of the year on September 27, 2018, at JT Schmid's Restaurant & Brewery in Tustin, CA.
The event began with the chapter's traditional social/networking hour with approximately 25 attendees. Guests enjoyed their choice of delicious dinner options, ranging from pasta to prime sirloin, along with some refreshing beverages. The meeting kicked off with a welcome and introduction from Ivan Chak, chapter treasurer. The chapter's guest speakers were Tracy Myers of GAF and Gwenyth Searer of Wiss, Janney, Elstner Associates, Inc. Myers and Searer guided the attendees through a broad overview of "Façade Access and Roof Design Issues," providing valuable insight from both architectural and
structural perspectives. Myers began by illustrating the importance of the role of the registered design professional and clearly identifying design and contract responsibilities on projects. She also discussed topics such as reference building codes, critical coordination nuances, and key considerations for roof design and durability. Searer gave an overview of governing regulations and covered several key differences between federal OSHA and California state OSHA rules specific to roof design and façade access. She also covered fall protection regulations, along with illustrated examples of temporary versus permanent and passive versus active systems. Searer and Myers rounded out the presentation with some interesting case studies highlighting some of the complexities in achieving façade access goals with challenges arising from ambitious architectural design, site-specific limitations, or lack of construction coordination.
It was a successful event as attendees earned one hour of continuing education approved by RCI and AIA. The chapter would like to thank both Tracy Myers and Gwenyth Searer for their time and efforts in delivering a well-informed and enjoyable presentation.
Upcoming Chapter Events
November 2, 2018: Chicago Area Chapter – Fall Meeting and Program and Brewery Tour
November 6, 2018: Mid Atlantic Chapter – Rooftop Quality Assurance
November 8, 2018: New England Chapter – "Unlocking the Puzzle of Building Envelope Continuity"
November 15, 2018: Canadian Prairies Chapter – Lunch 'n Learn | Mid-America Chapter – The 3 Es of Safety: Engineering, Education, and Enforcement (Email David Dixon)
November 16, 2018: Florida Chapter – Educational Session in Ft. Lauderdale | Chicago Area Chapter – Board Meeting
November 16-17, 2018: RCI Building Envelope Technology Symposium, Nashville, TN
November 22-23, 2018: Ontario Chapter – Masonry Wall Systems
November 27, 2018: Ontario Chapter – Ottawa Breakfast Seminar: The Future of Building Envelope Inspections
November 29, 2018: Portland Chapter – Chapter Meeting and Educational Presentation
November 29-30, 2018: Portland Chapter – Waterproofing