August 3, 2016
Two in-depth classes detailing important considerations for successful roof design.
Roof Technology and Science I – September 27-28
This two-day course is the first component of a two-part series covering roof decks and structures, roof insulation, bitumen membranes, built-up and modified-bitumen membranes, and flashing systems.
Highlights of the program include: critical aspects of roof decking and related supporting structures, heat transfer and practical heat transfer calculations, the function of heat transfer and the different types of roof insulation, the technology behind roofing bitumens and their related BUR and modified-bitumen membranes, and basic flashing nomenclature and bituminous flashing system construction
The Roof Technology and Science I course features fundamental concepts that prove useful for students in other RCI educational programs. Roof consultants, facility managers, contractors, architects, engineers, roofing material salespeople, property managers and others can gain new insight and professional development in the continually evolving world of roofing technology.
Roof Technology and Science II – September 29-30
This is the second course of a two-part series covering, in detail, aspects of the technology and science of roofing.
The program includes: fundamentals of single-ply, polyurethane foam, and PMR roof systems; basic concepts and terminology of metal roofing; steep-roof design and installation: asphalt shingles, tiles, wood shakes and shingles; building codes; fire testing/ratings of roofing; a basic understanding of wind interaction upon roofing and typical wind ratings; and principles of roof asset management, including roof inspections, maintenance, and nondestructive evaluations.
This course is designed to provide individuals of differing backgrounds with relevant information about roofing technology and design. Chapters vary in intensity, from basic roofing concepts to advanced specific application principles and theory.
Experienced Presenters
Jerry Teitsma, RRC, RRO, CCCA | RCI, Inc. | Granby, CO
Jerry Teitsma is an educator in the fields of roofing, waterproofing, and exterior wall issues. He was faculty at the University of Nebraska and at the Roofing Industry Educational Institute (RIEI) and has been part of the education department of RCI for more than 10 years. He is a patent holder in the area of moisture migration and condensation and is widely recognized as a roofing technical expert. His professional affiliations include RCI, ASTM, and ASHRAE.
David Dixion, RRC, RRO, CSI, CCCA, CCPR  | D2 Marketing | Olathe, KS
David Dixion has 23 years experience as a representative of four major building materials manufacturers. He earned his Registered Roof Consultant (RRC) designation in 2004 and has served on RCI's Registered Roof Observer (RRO) exam task team for RCI and the Construction Specification's Institute's (CSI) certification committee. His technical background is valuable when working with consultants to identify and solve jobsite issues. He has served as President of the Ohio Valley and the Mid-America Chapters of RCI.
Raymond Ramos, RRC, PE | Raymond Engineering-Georgia, LLC | Conyers, GA
Ray Ramos has been a consulting engineer since 1983. His firm's scope of services include roofing/waterproofing analysis, infrared moisture surveys, air barrier thermographic services, roofing/waterproofing design, construction management, roof asset management, failure investigations, and expert witness services. Raymond has or is currently serving on the boards of the Atlanta Chapter of Society of American Military Engineers, American Society of Civil Engineers, and the Council of Educational Facilities Planners International. He is also a member of ASTM D-08 Committee and the International Building Code Council.
Meeting Location and Accommodations
Embassy Suites St. Louis Airport
11237 Lone Eagle Drive, Bridgeton, MO 63044
800-362-2779 or 314-739-8929
Room Rate:*
$134.00 king suite + 15.175% + $3.00 tax. To receive this special room rate, contact the hotel by September 1 and refer to group name RCI, Inc.
Transportation:*
Complimentary shuttle to/from the airport.
Hotel Parking:
Complimentary parking for hotel guests.
*All additional fees, such as hotel and travel arrangements, are the responsibility of the registrant.
Educational Credits per Program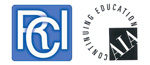 16 Continuing Educational Hours (CEHs) from RCI.
16 Learning Units (LUs) from the American Institute of Architects. Approved for Health, Safety and Welfare credit.
Registration and Event Details
RCI Members: $500 | Nonmembers: $650
Not a Member? Join RCI today and enjoy member savings when registering for this event.
Registration: 7:30 AM
Program Time: 8:00 AM – 5:00 PM each day.
A continental breakfast (at 7:30 AM) and a coffee/soda break are provided. Lunch is up to the attendee.
Students are advised to take a hand-held calculator to this course.
Offering over 30 educational programs each year, RCI is a leader in roofing, waterproofing, and exterior wall technology education. Ninety-eight percent of attendees polled described RCI educational events as worthwhile and said they would attend future programs.
RCI is an international association of professional consultants, architects, and engineers who specialize in the specification and design of roofing, waterproofing, and exterior wall systems.
RCI's Consultant members include over 1,800 skilled individuals whose specialties include designing, repairing, and managing building envelope systems. Many also specialize in forensic investigation, expert witness testimony, and construction document preparation.

RCI, Inc. | 1500 Sunday Drive, Suite 204
Raleigh, NC 27607 | 800-828-1902 | www.iibec.org