October 26, 2017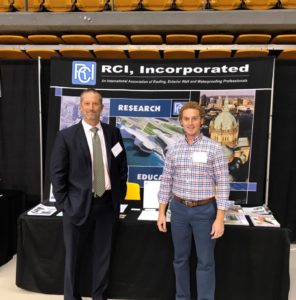 RCI recently exhibited at Appalachian State University during their Fall CareerFest and engaged students from several building sciences programs. It was an opportunity to inform students and faculty about RCI offerings and discuss the building envelope consulting profession. Many students were interested to learn more about the practical application of roofing and waterproofing technology and building envelope theory. Students are constantly learning about different career paths, and RCI strives to promote building envelope consulting and related industries as an emerging professional path.
In addition to meeting with students, RCI Secretary/Treasurer Scott Hinesley and Director of Membership Programs Alec Jeffries engaged with university faculty and administrators. In particular, John Clark, AIA, LEED AP, and a Practitioner in Residence within the Department of Sustainable Technology and the Built Environment at Appalachian State University, welcomed RCI's presence during an evening reception with students and sponsors. Clark is also the industry liaison for the department, responsible for developing relationships with the business community.
"It was refreshing to interact with ambitious students eager to join the work force. Word-of-mouth is a powerful tool on college campuses, and as RCI develops these important relationships, the industry will benefit from a new generation of aspiring building envelope professionals," says Jeffries.