August 23, 2016
Deaths
Richard "Dick" Fricklas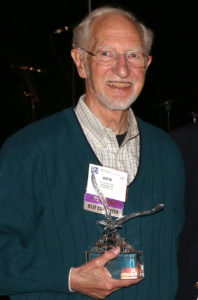 Dick Fricklas, researcher, author, journalist, and educator, died July 27 in his home in Centennial, CO, after a long illness. His roofing career started in 1957 as an R&D chemist for Johns-Manville and as a development chemist for Riegel Paper Corp. He returned to JM in 1964 and joined its roofing division, receiving a patent for a fire-rated vapor retarder. He also worked with FM Global and UL on fire-rated roof systems. In 1972, he completed his master's degree in physical chemistry at Rutgers University. Fricklas helped JM develop and present programs for its Built-up Roofing Systems Institute (BURSI) and took over the program. In 1978, he was invited to be the first technical director of the Roofing Industry Educational Institute (RIEI). He retired from RIEI in 1996 but remained active in the industry, writing technical instruction for the Corps of Engineers and coauthoring the third and fourth editions of the Manual of Low-Slope Roof Systems. He also helped RCI with curriculum development and wrote columns for RCI Interface, RSI, and Buildings magazines. He received many awards from RCI: Lifetime Achievement Award, Fellow of RCI, William Correll Award, and Denver Chapter Lifetime Membership. Other industry awards included ASTM's William C. Cullen, Walter C. Voss, and Honorary Member awards; CRCA's Lifetime Achievement; NRCA's J.A. Piper Award; IRWC's Lifetime Achievement, Educational Foundation, and Outstanding Achievement awards; BURSI's Outstanding Contributions award; and MRCA's James Q. McCawley Award. Dick is survived by his wife Anita, three children, and seven grandchildren.
Joe Russo
Joe Russo died on July 31, 2016, after a one-year battle with cancer. An RCI member since September 2001, Joe was active with the RCI Puget Sound Chapter, serving as its president in 2009. Director of Architectural Services for Malarkey Roofing Products in the Seattle area, Joe was a Registered Roof Consultant. His career started as a shingler, then hot crew, foreman, superintendent, estimator, consultant, technical manager, and sales manager. He and his wife Jackie enjoyed travel, and he managed a 2015 jaunt to Antarctica to cross off the final continent on his bucket list.
Other News
Shawn LeCrone, RRO, CD, recently joined PBK as a senior project manager in the Facility Consulting Group.
Brian Glover, RRO, is now a department manager at Pie Consulting & Engineering.
John Aleksic, RRC, RRO, CDT, is now with Unified Building Sciences, Inc.
REI Engineers, an employee-owned engineering firm with offices in NC, SC, FL and VA announces the acquisition of Hentz Engineering of Virginia Beach.
Hentz Engineering founder and President Steve Hentz, RRC, REWC, RWC, RBEC, PE, CDT, will provide leadership for this endeavor, which will continue to operate under the Hentz Engineering brand.
REI Engineers President Scott Hinesley, RRC, PE, sees this strategic partnership as, "a tremendous opportunity that joins two established firms with common philosophies to enhance the technical capability and geographic reach for providing roofing, waterproofing, and building envelope engineering and consulting services throughout the eastern United States."
Additional information can be found at www.reiengineers.com
New RROs for July 2016
Full Name
Company
State/
Province
Certification Date
Region
Andrea Eng, RRO
JRS Engineering Ltd.
BC
7/19/16
VI
Matt Gurka, RRO
Tremco Inc.
MD
7/21/16
I
Kevin J. Kramers, RRO
Alberta Roofing Contractors Association
AB
7/12/16
VI
David Niles, RRO
Simpson Gumpertz & Heger Inc.
MA
7/6/16
I
Randy Worcester, RRO
Roofline Consulting
KS
7/29/16
III
New Members for July 2016
Full Name
Company
State/ Province
Region
Category
Trenten Swank
Conley Group Inc.
TX
IV
QAO
Michael Crow
RedTree Consulting
AZ
V
C
Jason Cherry
Cherry Infrared LLC
VA
II
I
Rob Van Winkle
Los Alamos National Laboratory
NM
V
FM
Marvin Wagner, Jr.
VA
I
QAO
Andrew Morse
Royal Adhesives & Sealants Inc.
MA
I
I
Lucio Vasquez
Sherwin Williams
FL
II
I
Charles Ferrette, Jr.
SR Products
OH
I
I
Matt Allen
Royal Adhesives & Sealants Inc.
IL
III
I
Charles Kemp, RRC, RA
Emersion Design
OH
I
C
David Spaulding
ICP Adhesives & Sealants, Inc.
OH
I
I
Judith Salinas
Certified Contracting Group, Inc.
FL
II
I
Kyron Schuch
Polyglass USA, Inc.
FL
II
I
Roderick Jones
IL
III
S
John T. Markarian
John Markarian Construction
CA
V
C
Rob Hawks
NRCA
IL
III
A
James Nelson
Nelson Roofing
SC
II
I
Marco Y. Sieber
Polyglass USA, Inc.
FL
II
I
Jim Culliton
NA Engineering Associates Inc.
ON
VII
C
Buddy Hall
Nelson Hall & Associates Inc.
NC
II
C
William Dery
The Vertex Companies, Inc.
MO
III
CA
David Montross
Montross Companies, Roofing, Decking and Weatherproofing System
CA
V
I
Alex Cuffie
Morrison Hershfield
GA
II
C
David Coggiola
Atlas Roofing Corporation
TX
IV
IA
Daniel Tempas
Dow Building Solutions
CA
V
IA
Jamieson W. Droheim
MA Caputo Associates LLC
CT
I
CA
Ralph J. Galvan
Trufast Corp.
TX
IV
I
Linda Fu, RA
Marx Okubo
CA
V
CA
Luis M. Rodriguez
GAF Materials Corp.
FL
II
IA
Michael Leonard
IL
III
CA
Matthew Theberge
Johns Manville
CT
I
I
Membership Classification Key:
C=Consultant, CA=Consultant Affiliate, I=Industry, IA=Industry Affiliate, A=Associate, QAO=Quality Assurance Observer, FM=Facility Manager, S=Student