August 9, 2021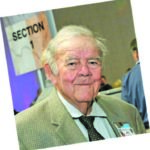 Joe Hale, longtime member of IIBEC (formerly of RCI) passed away peacefully on June 6, 2021, at his home in Max Meadows, Va. Hale is a past RCI President, RCI-IIBEC Foundation Chair, and Fellow of IIBEC. Hale has been a member of IIBEC since 1985; he was the first recipient of the Lifetime Achievement Award as well as the first honorary Registered Roof Consultant designation. Hale is also co-owner and founder of HDH Associates PC and HDH Technical in Christiansburg, Virginia.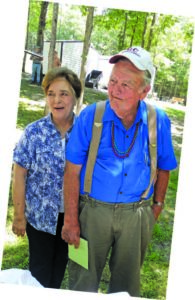 He is survived by his wife Patsy Cline Hale of Max Meadows; a daughter, Jody (Sherwood) Hale of Minnich Floyd, Va.; two sons, William (Janette Bissbee) Franklin "Billy" Hale of Claremont Beach, Va., and Timothy (Cherie Yost) Patrick "Tim" Hale of Fairlawn, Va.; a step-daughter, Robin (David) Liebal; and a stepson, Paul Hamby. He is also survived by four grandchildren: Lori Gwen Howard, Tori Elizabeth Hale, Jacob Hale, and Gregory Hale; six great-grandchildren: Adam Myers, Haley Walters, Emily Hale, Alex Hale, Kayleigh Kohlor, Brittan Lawson; and two step-grandchildren: Nakoma Hamby and Robby Jones.
"Joe gave incredible amounts of energy to IIBEC, from its humble beginnings right up to the present day," said Ted Sheridan, IIBEC President. "More than that, he personally touched the lives of hundreds, maybe thousands, of IIBEC members by making each of us feel important and encouraging us to be part of something bigger, something that would improve our industry. And he did that one relationship, one anecdote at a time. An enormous void is left by his passing."
"The industry has lost a great man," said Mike Blanchette, Chair of the RCIIIBEC Foundation. "His legacy will live on."
"Joe Hale was such a positive reinforcement to the ideal of doing things right," said Albert Duwyn, Chair of the RCI Foundation Canada. "He was an inspiration to those who chose to follow that ideal."
"Mr. Hale was one of the most dedicated and knowledgeable individuals I have ever had the pleasure of getting to know," said Scott Hinesley, Immediate Past President of IIBEC. "Since first joining RCI back in 1999, he went out of his way to introduce himself and make sure I knew he could be a trusted resource should I ever need one; I consider myself fortunate to have taken him up on that offer. I suspect I'm not alone in my sentiment."
"The organization and building enclosure industry at large have benefited tremendously from his tireless efforts and have grown into the force that not many outside of Mr. Hale would have ever envisioned. Without his thumbprint clearly impressed upon it, IIBEC would be a completely different organization today."
Hinesley added, "Mr. Hale will be dearly missed, but his legacy will thrive through his lifelong dedication to his profession, his community, and his family."
In Memoriam
Maybe it was Joe Hale's relatively close proximity to the nation's Capitol district, or perhaps an excuse for a relaxed trip away from his home in southern Virginia. Or, as I prefer to think, it was his ardent belief in the benefits of employing science and technology to advance roofing performance. No matter the reason, over the years that I was at the National Bureau of Standards/National Institute of Standards and Technology, Joe was the roofing consultant who visited our facilities the most. Sometimes, he "happened to be in the area," but most of the time he had a specific reason for the visit. Each time he came by, he was like a kid who had just entered Disney World for the first time. His enthusiasm for seeing the labs and the ongoing research was unmatched.

By way of supporting evidence, I offer the following story involving Joe's promotion of roofing research in support of performance, as we celebrate Joe's life and contributions to building enclosure consulting. At some point in the past, Joe and I were in attendance at a roofing industry event that included a networking function one evening. I was talking with Joe when a manufacturer's representative, who had reportedly been urging Joe to use a relatively new product, walked by. Joe abruptly halted our conversation and pulled the rep toward us. I did not know this gentleman and have always wished I met him under different circumstances. While introducing us, Joe clearly stated that he would only use the product after NIST did an examination of its intended
use. He furthermore distinctly indicated that he expected that the rep's company would support whatever research was necessary.

This was Joe uniquely doing what he always did best—advocating for improved roofing. I will not go into the pros and cons of Joe's bold approach to foster research in this specific case, other than to say that his intentions were noble. For sure, he wanted the research done for reasons that reached far beyond Joe Hale's personal needs. He seriously believed that more research was needed before the given product became widely available. As for me, besides being put in an awkward and uncomfortable position, I had worries of being accused of lobbying, which was certainly unallowable in my research career.

Thanks, Joe, for your belief in the benefits and importance of research to support roofing performance. My story is only one of many that colleagues in the industry could tell. Rest in peace, my friend.
— Walt Rossiter, F-IIBEC, PhD
Joe Hale is always the first person who comes to mind when I think of RCI or IIBEC. I've known Joe for over 25 years and always enjoyed his talks. Whether we were talking one to one or he was
speaking to a large audience, he always kept me waiting for another example of his wit or an interesting history lesson. I think anyone who met and talked with Joe could honestly say that he
was interesting and knowledgeable in a multitude of subjects. Joe was a mentor to me, and I am sure to many others.

Vicki and I were blessed when Joe and Patsy took a trip by train to Vancouver several years ago. We picked them up at the train station and drove them around the downtown area to see some of the sights. Afterward, we went to our place, and they spent the night. They spoke of the great train ride through the Rocky Mountains and Fraser Canyon. The next day, we went in our car and took the ferry across to Vancouver Island and drove to Victoria, where we met the RCT Board of Directors for a board meeting. I learned a lot of things about Canadian history from Joe and felt a little embarrassed of my lack of knowledge compared to his.

Joe is one of the greatest men I have ever had the privilege to know. He made me and Vicki so comfortable and welcome when we first started to attend conventions, and I believe that he is why we kept coming back.

I hope there's chaw in heaven.

Such a tremendous loss.
— Bob Elsdon, F-IIBEC
I had the good fortune to meet Joe early on in my consulting career and involvement with the institute. Traveling and staying with Joe and Patsy at their home and game preserve was always a pleasure, as well as educational. Every time we went for a "little ride" through parts of Virginia and North Carolina, I knew a unique history lesson was about to begin. As we traveled and Joe talked in his "Queen's English," as he called it, and the size of chewing tobacco in his cheek grew, understanding his points required the ability to interpret both tonal quality and inflection, as
well as the Queen's English. I believe that to be part of the history lesson.

Joe was a great friend and mentor not only to me but also to multitudes who took the time to listen. His last words to me were, "As you get older you find simpler comforts in things, like a hard bed and a soft stool."

Love you forever, Joe!
— Bill Cypher, F-IIBEC
Joe was a unique individual who knew enough about a subject to cajole us to learn more. He would call fully prepared to prime us to take the subject to the next stage. This is how he could take a project and move it forward when others would be at a standstill. His unique talents to move the ball forward helped make both RCI and the Foundation credible entities by dragging many of us into the arena.

I met Joe on a roof in Virginia in 1985. He asked me to meet him on the roof to figure out how to attach a single-ply membrane. That took five minutes. We spent the next hour on the roof talking about RCI and why it was essential I became a member. I did. Over the next two years, he introduced me to people who have become lifelong colleagues and lifelong friends.

In short, Joe brought many of us to the core of RCI and kept us focused on the issues of the day.

I cried at his passing because there will be no one who will fill these shoes, and no one who will make you feel you are his best friend.

There are no awards that really matter for people like Joe. Keeping alive the projects that were dear to his heart is the best way to honor his memory.

Best to all,

Colin
— Colin R. Murphy, F-IIBEC, RRC, LEED AP BD+C, PRA
Joe Hale's 2016 quote in memory of Bob Lyons:

"Thanks for your vision and passion. They are so rare. The vision is not complete; we are still working on perfection. God bless."

Back at you, Joe.
— Brian Gardiner, F-IIBEC, CCS
I knew Joe not only as a fellow member of the Institute and fellow board member but also, and most importantly, as a friend. Although we did not often talk on the phone in the last few years, I still found that when we did, there was no such thing as a short phone call. Even though he often reminded me that I was a Yankee, we always got along well, and I will certainly miss his advice and
history lessons.
— Sam Huff, F-IIBEC
I'm sure we could all write a book about the force of nature known as Joe Hale, but in remembering him here, I'll focus on his support of education. This was perhaps most evident in the final big push of his life, the establishment of the Joe Hale Public Library of Fort Chiswell, Va., but there were many other examples. Though Joe was himself a graduate of the University of Hard Knocks, he always valued and supported my own academic endeavors. In fact, it was he who suggested I get my master's degree while working for him. During that time, I attended many RCI educational events, and Joe was constantly reminding me to use RCI-Mercury, the online database RCI operated at the time.

In his last months, Joe and I had multiple conversations about the fate of the collective knowledge of RCI and IIBEC members past and present—he had ideas for an archive where these materials would be scanned so they could be easily disseminated while the originals remained safe and sound. I also witnessed firsthand how much Joe enjoyed and appreciated students. A natural teacher and storyteller, he loved talking to student sponsorship recipients (whose presence at the convention he had catalyzed) late into the evening at the IIBEC Convention.

Though I am saddened to lose my mentor and friend, the good news is that Joe left an unambiguous charge as his legacy: to use our collective educational resources to assist a wide range of people, from the citizens of Wythe County to building enclosure professionals around the world. Joe did much of the hard work—it is now up to us to honor his vision.

Thanks,

Elizabeth
— Elizabeth Grant, PhD, RA
Joe,

Thanks for putting your mark on the building enclosure world—and I am not referencing a spit of tobacco juice. The roofing world began with coal tar pitch, then evolved through asphalt, single-ply membranes, coatings, and in 2005 at the convention in Miami, it took on the entire building enclosure! I assume you remember that convention.

I reviewed "The First Five Years" and the "RCI Silver Anniversary Report" in an attempt to determine when you joined RCI but could not find that information. I joined RCI in 1985, and my recollection is that you were always there; you were an integral part of the organization.

Since the start of RCI, there have been many volunteers serving as officers, committee members, and reliable contributors, and this attitude of contributing to the organization continues into IIBEC. You were one of those volunteers, and you volunteered many times—I doubt that anyone contributed more than you did.

Joe, thanks for the mark you made on the building enclosure.

John
— Johann (John) L. Willers, RRC, PE
Joe's passing has left a marked void in my life and in my family's life. We were scheduled to spend a day with him on the farm, but due to circumstances (fuel shortage and then Amy's SAT test), our trip got delayed by two weeks, and then we received the devastating news. Joe was, and will forever remain, an iconic figure in the building enclosure consulting industry. Personally, I considered him to be the Winston Churchill of the industry: tough as nails, smarter than most, and relentlessly focused on his objective to protect and promote the industry and association he loved so dearly. And yet despite that tough exterior, he always had a twinkle in his eye and a mischievous smile, calmly steering discussions to a sensible point. I always came away thinking what an amazing leader and wonderful, down-to-earth man he was.

When I took on the role as the incoming RCI CEO and EVP, one of my first actions was to visit members who had played a key role in the association's past. I couldn't help but feel a bit intimidated as I met up with Joe at his company's office in Virginia. Almost everyone I had spoken with up to that point in time had mentioned his name as one of the most influential and vocal industry stakeholders that I should meet with, and Joe did not disappoint! I just sat there listening to all the history and sage advice he shared with me. One couldn't help but be mesmerized by his knowledge and candid perspective as to what needed to be done. I knew then and there that I was in the presence of a great man, who eventually became a dear advisor and friend, always willing to listen and to share the wisdom he had gained over many years dedicated to advancing the association and serving others.

We have lost a great man, but Joe's legacy lives on. I will certainly be listening for his voice of reason and caution when contemplating decisions in our Foundation board meetings. I am grateful that I had the privilege to capture a sliver of his wisdom and will do my best to keep his spirit alive in our meetings.

We will not let you down; rest in peace, Joe.
— Lionel van der Walt
Joe was the ringleader for every worthy cause and the champion of every underdog. Once you had Joe's respect, you knew he was in your corner. I witnessed him go to bat for his community, his clients, his staff, the environment, and RCI/IIBEC for the quarter century I was honored to know him and his fantastic family. I will miss the gentle smile, the wicked sense of humor, the passionate advocate, and the liberal mind behind the fatherly mien.
Godspeed, Joe.
—Kris Ammerman
Simply, Joe Hale was a kind soul, a mentor, an advocate, a man with a wonderful sense of humor. His was a life well lived, and one dedicated to those things he thought brought value, such as enhancements to his beloved mountain that benefited the fauna sharing his corner of southwest Virginia.

Joe taught many of us so very much, and we are grateful for the lessons and the time he shared. One thing many came to realize is that most are novices when it comes to history, and if you asked, you'd always learn something about our country's history from Joe—and be better for knowing it. Most of all, Joe was a friend.
— Helene Hardy-Pierce, F-IIBEC
There are not enough words to express our appreciation and admiration for what Joe meant to us. He set the standard to which we all should aspire for dedication and vision. We are better for having him as a friend and leader.
— Sid Hankins, F-IIBEC
A man of great stature was memorialized today by friends and community. He was beloved by so many in the community whom we at RCI never knew.

Joe will be missed, fondly remembered, and never forgotten. His contributions to his community and RCI/IIBEC will live on. Goodbye my friend; God bless!
— Thomas W. Hutchinson, F-IIBEC, RRC, AIA, CSI
I first met Joe Hale at the 1986 RCI Reno Convention, when Joe and Dick Horowitz were putting together a new RCI Education Committee, which I volunteered to serve on. In the years that followed, I enjoyed teaching many RCI (now IIBEC) courses with Joe and Mike DeFrancesco, among others, up and down the East Coast.

With a lot of support from Joe, I went on to become the chair of the Education Committee and served on the committee for a total of 20 years. With further encouragement from Joe, I went on to serve years on the Document Competition Committee and subsequently on the Ethics Committee.

At every step, I considered Joe Hale to be a friend, mentor, and inspiration. I would often kid him about how much he reminded me of my Southern grandfather, even though Joe was only nine years older than me.

I had the extraordinary pleasure and privilege of spending June 4 with Joe, including four hours of driving and four hours at an antique truck show. Many of those hours were spent discussing RCI/IIBEC and how much Joe appreciated what the organization had done for him, how many wonderful, intelligent, and well-informed people he had met and become friends with, and his asserting that never would have happened if not for RCI/IIBEC.

Imagine that, the "giver" being grateful!

Of course, I had to counter Joe's comments with my opinion that RCI/IIBEC owes a lot more appreciation to Joe than Joe owed to RCI/IIBEC. Of course, Joe disagreed!

Joe was a kind, accomplished gentleman until the end, and an extremely strong advocate for education. So, it is only fitting that a library be dedicated in his name for his life's effort in futhering education for all and allowing his legacy to live on.
R.I.P., Joe Franklin Hale.
— Tim Barrett, RRC, CDT
Several years ago, Joe and I planned a trip to Wyoming with a few of our friends. The plan was to take enough "stuff" to ensure a successful mule deer hunt, and, as a result, multiple trucks and trailers were required to get everything to Wyoming. Joe was riding with me. After we had made a strategic plan, I began to wonder how Joe and I would find enough subjects about RCI to fill the 48 hours of riding time. I was about to find out that Joe was a war history buff, and we spent less than one of those hours talking about roofing and RCI. I mostly listened and was amazed that any one person could retain so much knowledge. He knew all about the battles, the locations, the officers in charge, in addition to mountains of minutiae about details so tiny that it was hard to comprehend that one person could remember that much. As you all know, Joe was the same way about roofing history and knowledge. I will miss my dear friend and the best advice he ever gave me: Nothing is impossible. All it takes is someone to believe in it enough to make it happen.
— Nelson Hall
I met Joe Hale so long ago that I forget exactly when—more than 30 years. After that, we met infrequently, working on the same and opposite sides of the fence, mostly for various clients on roofing projects. During all that, I think we grew to admire each other, not because we always agreed, but because we liked what we saw in the heart and will of a person. I cannot speak for Joe, but I hope he would say at least a small part of the following about me.

I can say that as time progressed, we did spend more time together, having both pleasant and somewhat heated discussions from time to time. You do not always have to agree with someone you respect. I always walked away knowing more than when we started, and always as a friend. Joe was a master of garnering support, and he rarely gave up his issues, ideas, and dreams. He asked for a lot from many, but he also gave a lot to many. Joe was a true example that we can do more together than we can as individuals. I doubt he ever asked anyone to do anything he would not be willing to do himself. Joe honored and respected those who had little and gave as much as they could at least as much as those who had a lot and gave some (time, effort, and financial) support. He also equally respected those with advanced degrees and those who were not "academics." His local community, the Roof Consultants Institute, and now IIBEC were blessed to have him and benefited because he shared his dreams, energy, and perspective with all who knew him. I, by the way, truly enjoyed the history lessons he had to offer in ample supply.

God blessed us with Joe.
— Dave Hawn, F-IIBEC, RRC, CEM
I hate funerals, and I hate weddings. Only because I get soupy at both—even for folks I didn't know well. But this time, I had to formally say goodbye to Joe Hale.

Joe is the first one at RCI to ever place confidence in me. Long about 1988–89, I was a young staff engineer in a large company, just trying to make my way. Joe accosted me in the hallway of a Region II meeting. He said that, in spite of my being from North Carolina, he heard I could read and write and all that stuff. He said, "Here, boy, you are editor of our magazine now."

Shortly afterward, my sweet big project was in Salem, Va., with a very good Fortune 50 client. I knew little about the Code of Ethics back then. But during a phone conversation, Joe inquired, "Why are you coming into my state without advanced notice and without your traveling papers in order?" Not knowing his sharp wit at the time, I sat at my desk with legs trembling, certain I had done something wrong. When I last spoke to Joe 45 days ago, I related this story about him menacing me in such a manner. He just leaned back and roared a big belly chuckle, learning only then that he clearly got one over on me. What a big personality!

Joe loved his IIBEC Foundation with a passion. Raise your hand if Joe ever called you asking for a donation. He was not interested in excuses; he only wanted to know how much you were going to send—and when he could expect it. Seems like he taught Rick Gardner fairly well, too. Joe was proof that giants did indeed walk the earth, and we all were privileged to have shared the planet with him. Joe, I will send more money to the Foundation when I can. Meanwhile, I am far more interested in you being added to Mount Rushmore. Kind regards, big brother; you are missed and remembered.
— Lyle D. Hogan, F-IIBEC, RRC, PE
Joe's President's Message in Interface March/April 1994 stated,

"RCI is an inclusive organization that may expand to include the entire building envelope community, without losing its identity."

That was vision. If you have watched the History Channel, you probably have seen The Titans Who Built America. Joe was a titan in building RCI-IIBEC. And, to paraphrase General George C. Patton Jr., "We should not mourn … but thank God that he lived."
— Bill Rubel, F-IIBEC
Joe Hale, lover of history, passionate about knowledge, devotee of the great outdoors (including Canada, hey!), farmer, historian, building enclosure specialist, visionary, instructor, mentor, entrepreneur, motivator, father figure, friend, simply a wonderful person in life.

I am proud to have known Joe and blessed to have served under him at the Foundation. My memories of him are clear and vivid, and I am at peace that he rests in a well-deserved harmonious place now, after enduring some health hardships in the last moments of his life.

I am also grateful that the RCI/IIBEC Foundation was able to deliver him a special and proud moment by the naming of the Fort Chiswell, Va., library the Joe Hale Library of Fort Chiswell! I never really saw Joe as an outwardly emotional person, but that dedication really demonstrated his inner feelings to us.

We send our deepest and most sincere condolences to Patsy and the entire family. May they always keep their dearest memories of Joe clear in their minds to always remember Joe as the wonderful person that he was.

God bless you, Joe, and your family!
— Marc Allaire