March 17, 2019
The final annual Awards Luncheon of RCI, Inc. honored scores of volunteers who have given tirelessly of their time and talents to the association over the last year and prior to the institute's new rebranding as IIBEC.
Lifetime Achievement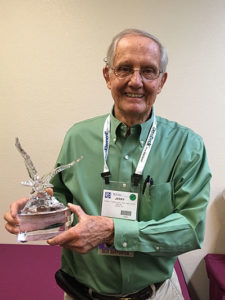 Awarded with the association's ultimate honor for a "lifetime of service and contributions to the success of RCI" were Phil Dregger and Jerry Teitsma, who both received the Lifetime Achievement Award. Both men have contributed countless hours presenting education, writing articles for publication, and serving on committees for RCI over their long careers. Both of the busy champions were taken by surprise – in fact, Jerry failed to attend the luncheon (thus the post-event photo).
William C. Correll Award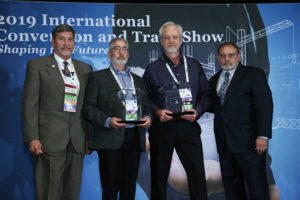 Recognized for their "demonstration of a high degree of professionalism, leadership, ethics, unselfish dedication, or significant contribution to the growth and recognition of RCI" were two individuals who received the award named for RCI's first executive director and RCI pioneer—William C. Correll. They were Brian Gardiner and Richard "Rick" Wagner.
Fellow Award
Outgoing President Michael Clark was named to the Jury of Fellows, and will be entitled soon to place "FIIIBEC" after his name as a Fellow of the International Institute of Building Enclosure Consultants (all previously honored Fellows of RCI will become, as of April 1, Fellows of IIBEC)
Michael DeFrancesco Award
Brian "Rick" Craig was awarded the Michael DeFrancesco Volunteer of the Year Award, "exemplifying enthusiasm and dedication to RCI."
Richard M. Horowitz Award
Todd Skopic, author of the best technical article published in
RCI Interface
in 2018, was granted the Richard M. Horowitz Award for "
The Cavity Wall Balancing Act: Designing for Watertightness, Airtightness, Thermal Efficiency, and NFPA 285 Code Compliance
," published in the October 2018 issue of
Interface
journal.
Emerging Professional Award
Julie McDonald was granted the Emerging Professionals Award created in 2014 for the young professional who has shown exceptional leadership, professionalism, and/or industry contribution at an early stage in his or her career in the field of roofing, waterproofing, and exterior wall systems.
Scores of newly minted RRCs, RROs, REWCs, REWOs, RWCs, and RBECs were recognized, as were 20-year, 25-year, 30-year, and even 35-year members of RCI.
Document Competition winners received plaques in four categories, while 17 chapters earned awards as silver-, platinum-, and gold-level awardees in the Outstanding RCI Affiliated Chapter Awards Program.
Look for photos and articles on all the winners in upcoming issues of IIBEC Interface and on the IIBEC Newsfeed.