March 3, 2019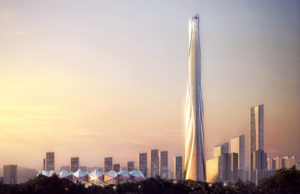 Upon completion, the Shenzhen-Hong Kong International Center (SHKIC) in Shenzhen, Guangdong, will be the tallest building in China, at 668 meters (approximately 2300 feet) and the second tallest in the world, after Dubai's 828-meter Burj Khalifa. (It is possible that by the time of its completion, however, that Dubai One Tower, planned at 711 meters, may overtake SHKIC in height.) It will contain 140 floors and 321,900m2 (3,465,000 sq. ft.). Construction began in March 2018 between the foothills of Longcheng Park and Dayun National Park, and the building is expected to open in 2024 and cost $6 to $8 billion U.S.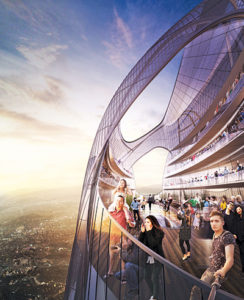 The building is slated for LEED Platinum certification. High-performance glass will be used to reduce heat gain. Winds predominantly from the east and northeast will be funneled into the open spaces to provide natural ventilation.
The complex will contain a convention and exhibition center, startup incubators, residential buildings, office and performance centers, five-star hotels, schools, and shopping malls. It will include one of the world's highest observation points.