October 26, 2017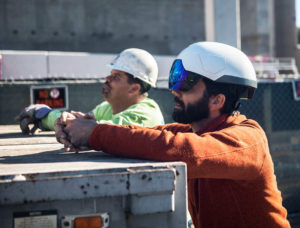 Augmented reality (AR) headgear may one day be standard issue for architects, engineers, and building envelope consultants on construction sites. The headsets could overlay digital information from building information modeling (BIM) so that someone looking at a wall or a roof through the AR headset visor could see imagery of the systems beneath. It could also be used as a thermographic tool to check heat and moisture in building envelope systems.
DAQRI, an AR company based in Los Angeles, has introduced the Smart Helmet, which includes a high-speed wide-angle tracking camera, a thermal camera, multiple sensors, and Intel Core processors.
Microsoft Corp., which produced a pair of mixed reality smartglasses called HoloLens, is working with Trimble Inc. to integrate Trimble's 3-D modeling and collaboration software with HoloLens for use in the architecture, engineering, construction, and operations industries. Other companies are also working toward industrial uses of AR headgear.
DAQRI's Smart Helmet uses a combination of cameras and sensors to capture and record real-time information about the user's surroundings, from valve readings to thermal data. It can also show the wearer stored information such as safety guidelines and worker instructions. This video shows how the helmet works: