August 23, 2016
Go straight to the source! Find chapter news on RCI affiliated chapter websites.
Go straight to the Chapter Awards Program: Series 3—Education and Registration
Chapter Events
RCI Florida Chapter Summer Educational Event A Success
It was an exciting day in beautiful South Florida for the RCI Florida Chapter summer educational event. The event was sponsored by Duro-Last, Soprema, and Wausau Tile. It was conducted at Soprema's training facility in Pompano Beach, Florida. It is said you can't learn on an empty stomach, so a full breakfast was served as the attendees arrived and were signed-in.
Not only were there five hours of outstanding educational presentations, the summer event included a Latin pig roast for lunch, a "Roll to Win" chance for a $1000 prize, a "fifty-fifty" giveaway, and a drawing for a half-day deep sea fishing excursion.
The event supported the RCI Florida Chapter's primary objective – to offer outstanding and diverse educational opportunities. "Knowledge knows no barriers" is a maxim that reflects the chapter's responsibility to freely share information to all members of the industry. It is this commitment that brought together 70 industry professionals, including roofing and waterproofing contractors, roof testing and roof inspection agencies, manufacturers, and consultants.
The professional experts in attendance were treated to four speakers who addressed many different challenges facing the industry. Subjects included below- and above-grade waterproofing, single-ply roofing and sustainability, plaza deck paver systems, and how to negotiate roof plan submittals and obtain project permits.
After breakfast, Florida Chapter President John Kuchler Sr., RRO, welcomed the attendees and thanked event sponsors and each of the RCI Florida Chapter sponsors:
Raise the Roof
Annual
The president also recognized the hard work of the many member volunteers whose efforts resulted in this well attended event. Finally, Kuchler acknowledged and congratulated the chapter's two new Registered Roof Observers: Matt Cooper with Advanced Roofing, and Joseph Sorrentino with Sherwin Williams' Roofing Solutions Group.
The day's presentations began with Carl Kuhn from Soprema providing a very informative seminar on "Waterproofing Products and Applications—What You Need to Know." This presentation explained the use of waterproofing on bridges, tunnels, and below-grade installations, including blindside and negative-side systems. The differences between roofing and waterproofing were clarified, and the importance of drainage was underscored. The presentation concluded with a case study that brought home the consequences in lost time, disruption, and the tremendous cost associated with a poorly-designed waterproofing system.
After a break and networking session with our sponsor vendors, William Boyer, the southeast regional sales manager with Duro-Last, provided a tutorial entitled, "Cool Thermoplastic Roofing Systems for Sustainable Buildings." The fundamentals of heat island effect and solar interactions were discussed. Cool roof case studies, green building rating systems, and warranties were also examined.
After another networking break during which the attendees engaged the vendors in gaining information to better their business endeavors, the next seminar opened. Troy Dahlke and Joe Conrad with Wausau Tile presented, "Precast Concrete Paver Roof Deck Systems." Paver types, physical properties, installation layouts, and associated LEED ratings of paver systems were communicated to the attendees. The presentations concluded with a detailed study of wind uplift design parameters and system development and testing.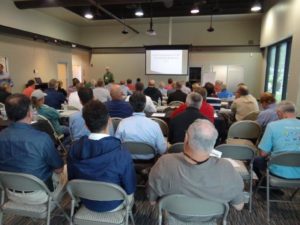 After an information-packed morning, the attendees were looking forward to a nice lunch—and they were not disappointed. Perhaps no other culture has influenced South Florida's approach to fine dining more than traditional Hispanic cuisine. In keeping with this flavor, a Latin touch was added to lunch, with a whole roast pig and roast chicken with all the trimmings being served.
After lunch, Boris Sursky, the Miami-Dade County roofing plans examiner, provided an enlightening presentation, "Oops! How to Avoid Permitting Errors in the High Velocity Hurricane Zone." An overview of the applicable building codes and an explanation regarding web-based resources were provided. Permit submittal documents including wind loads, roof drainage, fire directory listings, types of acceptable product approvals, and various types of roof testing were discussed in detail. Sursky provided a comprehensive review of the pitfalls associated with a complex approval system and stressed, "Roofing is difficult. Don't make it more difficult by failing to submit correct permitting documents." He provided attendees with examples and crucial guidance in how to avoid costly errors on roofing permit applications.
Before the session concluded, drawings were held for a half-day fishing charter sponsored by Empire Roofing and the chapter's "fifty-fifty" cash prize.
Mark your calendars for these upcoming Florida Chapter educational events:
For more information about these events or upcoming chapter social happenings, check the RCI Florida Chapter website.
—Michael L. Goolsby, RRC, CDT, LEED BD+C, CBO, Florida Chapter Past President
Great Lakes Chapter Calendar
Please mark your calendars! The balance of the Great Lakes Chapter's 2016 schedule consists of:
September 12: Benefit Golf Outing at Walnut Creek Country Club, South Lyon, MI. Our charity this year is a local neighborhood development organization called Joy-Southfield Community Development Corporation. Come help support this worthy cause. All proceeds go directly to the charity.
October 13: Fall Technical Session at Local 149 Apprenticeship Training School, Oak Park, MI
December 1: Annual Meeting and Banquet at Walnut Creek Country Club, South Lyon, MI
Details will be sent to the membership well in advance of all scheduled events.
Volunteers are important to any organization. If you would like to help, please call or email Chapter President Ron Kinne at 734-591-4444 or rkinne@rtaltd.com.
—Sue Baumberger, Great Lakes Chapter Industry Director
Georgia Chapter Learns About Air Barriers and EIFS; Enjoys Ballgame
Our second chapter meeting of the year was held on April 15, 2016, at the Perimeter Maggiano's Restaurant, where members enjoyed an excellent lunch and a presentation given by Jennifer Kelly, the specification sales manager for USG Building Envelope and Roofing Solutions. Kelly spoke on "Air Barriers: Purpose, Technologies and Challenges." The program examined the importance of air barriers in construction and the increasing requirements to control air, water, vapor, and thermal properties to improve a building's performance. Also discussed were current air barrier technologies and installation practices that affect performance.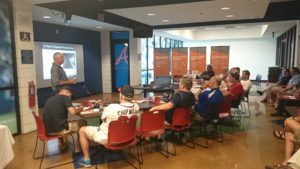 By the end of the lunch, attendees were able to:
understand the components of an air barrier system and its principle purpose in the building enclosure
identify the impact air barriers have on a building's energy efficiency, operating cost, indoor air quality, and the infiltration of moisture
compare air barrier technologies, their uses, the benefits and challenges of each, and to recognize how the integrated air barrier panel can speed and simplify an installation, resulting in a more cost-effective outcome with predictable performance
Our third chapter meeting this year was held on June 17, 2016, again at the Perimeter Maggiano's Restaurant. Members enjoyed another excellent lunch and a presentation by Tyson Kindstrom, the southeast regional manager for Sto Corp, Inc., titled "Critical Details for EIFS and Other Wall Coverings." The program identified different types of exterior insulation and finish (EIFS), their materials, and components.
The program also:
broke down the different types of EIFS and compared their features and limitations
recalled basic design requirements for EIFS specifications
reviewed the sequencing of flashings and sealants with EIFS to create a weatherproof building envelope
The Georgia Chapter hosted its first social event of the year on June 23, 2016, with a night at the ballpark at Turner Field in downtown Atlanta, where we cheered on the Atlanta Braves against divisional rivals the New York Mets. The night started off in the All-Star Room with a great presentation by USG Securock titled "Structural Cementitious Floor Sheathing Panels." After the presentation the event moved up to the club-level suites, where everyone enjoyed great food, drinks, and each other's company. The chapter thanks sponsors: USG Securock, Sika Sarnafil, Soprema and CRS Inc., and event organizers: Pat Hiltman with USG Roofing Solutions, Roger Lock with Nova USA, and Brandon Smith with BASE Innovations Group, LLC. For those of you who left early and missed it, the Braves actually came back to beat the Mets 3-2 for one of the few wins they've had this year. We look forward to a better baseball season next year in Atlanta's new stadium.
—James M. Brown, AIA, RRC, RCI Georgia President
---
Chapter Awards Program
Series 3: Education and Registration
By Szymon Zienkiewicz, RRO, PE, LEED AP
RCI Chapter Development Committee Member
This article is the third in a monthly series of seven articles pertaining to the new Chapter Awards Program. The revised application process takes on a digital and more user-friendly approach, utilizing Excel®. The intent of the awards application is twofold: 1) to recognize a chapter's accomplishments for the year, and more importantly, 2) to chart a chapter's roadmap for planning, operation, and growth activities.
The following describes the Education and Registration components of the award program application:
Section 4.0. Education
Education is a pillar of RCI's mission. Educational events bring us together, allow us to network, and provide opportunities for professional development. It is, therefore, one of the most important chapter committees. The Education section (4.0) of the application, worth 100 points, is organized in three intuitive areas: Committee, Seminar Information, and Scoring. Four important considerations for maximizing scoring in this section include:
Establish an education committee, and be active (10 points).
Provide educational seminars, approved for continuing educational hours (CEHs) by RCI or learning units (LUs) by AIA (15 hours or more can attain 22 points).
CEH approval by RCI is at no cost and can be provided by Micki Kamszik (mkamszik@iibec.org) by submitting a program itinerary, at least four learning objectives, and a biography of the speaker.
AIA approval requires the RCI affiliated chapter to register with AIA as an AIA Provider (approximately $450 annual cost for nonprofits) and follows an online submission process, which can take up to two weeks.
Include program information material in Attachment 7 for validation of each event.
Approve programs with RCI at least 45 days prior to the seminar (25 points).
Provide RCI CEH/AIA LU certificates to attendees (25 points).
Creating a sign-in sheet at the meeting can assist greatly.
You can obtain a certificate template from RCI, Inc. or create one yourself.
Section 5.0 – Registration
RCI's registrations endeavor to establish a standard of qualifications and practices in a largely unregulated industry. Although longstanding affiliated organizations such as the Construction Specifications Institute and professional groups for architects and engineers offer valuable registrations that cross over to varying degrees, RCI's registrations are rooted in the building envelope and focus on roofing, waterproofing, and exterior walls.
The general requirements for each RCI designation include an application, examination, and ongoing continuing education. Currently available RCI registrations include quality assurance observation and consultant recognitions comprised of the following: Registered Roof Consultant (RRC), Registered Waterproofing Consultant (RWC), Registered Exterior Wall Consultant (REWC), Registered Roof Observer (RRO), and Registered Exterior Wall Observer (REWO).
Increasing participation in RCI registrations is a common goal for RCI and each of its affiliated chapters. Section 5.0 covers Registrations, also worth 100 points, and is organized by the following subsections: Committee (lists the members and chair), Registration Information (tallies the number of chapter members with each designation), and Scoring (scoring line items). Four important considerations for maximizing point accumulation in this section include:
Establish registration committee and be active (25 points).
Promote RCI registration programs and designations (25 points).
This can be done through online e-mail campaigns and/or during educational events.
Create study groups for registrations (23 points).
The So Cal and Ontario Chapters have done this in the past for the RRO and RRC examinations. Use them as resources, if needed.
Have members on the chapter board of directors with RCI registrations (15 points).
Having only one member on the board with an RCI registration qualifies for this scoring item.
Be on the lookout for the RCI Chapter Development Committee's next article, four of seven in the Chapter Awards Program article series. It will cover Section 6.0–Long-Range Planning and Section 7.0–Archiving of the application.
If your chapter has not already downloaded the new Chapter Award Program application, visit www.iibec.org/membership/downloads. A pdf of the application can be found under Chapter Leadership Tools.