By Blake Johnson, PE
Precast concrete insulated sandwich wall panels, or sandwich wall panels, are composed of two concrete panels, or wythes, separated by a layer of insulation and connected by wythe connectors. These panels can be broken into two primary design categories: non-composite and composite. This article defines composite and non-composite design, reviews the evolution of the sandwich wall panel, and discusses the value added to projects when using composite design.
The basic variance between composite and non-composite designs is the ability for both wythes of the sandwich wall panel to act structurally together. In a non-composite sandwich wall panel design, each wythe works independently of the other. This requires that one "structural" wythe be thick enough to support the load criteria for the wall system while the "architectural" wythe is connected to it via a relatively flexible wythe connector. In a fully composite design, both sandwich wall panel wythes work together structurally through the life of the panel, sharing load between the wythes via relatively stiff wythe connectors. When the wythes work together across the insulation, there are significant gains in façade efficiency, which will be reviewed later in this article.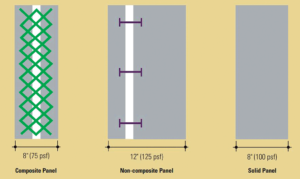 Figure 1 shows three different wall design configurations that would provide nearly the equivalent structural capacity of an 8-in.-thick solid concrete panel. It is important to note weight variance per square foot of each section. The composite sandwich panel wall design shown has a 40% reduction in weight when compared to a pin-type non-composite sandwich and a 25% reduction to a fully solid wall while providing a continuous insulation layer. The weight reductions are directly tied to the utilization of less concrete in the system using a fully composite wythe connection system. This is an especially important factor when considering the efficiency of the façade and its long-term high thermal performance.