August 5, 2016
Editor's Note: For the next several weeks, we will be highlighting last year's document competition winners. If you want to get involved, think about submitting something for the 2017 Document Competition. But hurry, the deadline is October 31, 2016!
AGL Resources General Office Building – Naperville, Illinois
The AGL Resources General Office Building, in Naperville, Illinois, is an eight-story office structure with a mechanical penthouse level on the top floor. The building was built approximately 25 years ago. Three of the four building elevations are primarily clad with a curtain wall system consisting of interior-set vision and spandrel glass panels. Glazing pockets at horizontal mullions have integrated internal drainage with end dams at the ends of each mullion. The curtain wall system is panelized between column lines with a barrier-type decorative metal cladding system separating the curtain wall panels. The joints in the barrier metal cladding are sealed with field-applied sealant. On the east and west elevations of the penthouse level, large aluminum louvers serving the HVAC equipment have been integrated into the curtain wall system.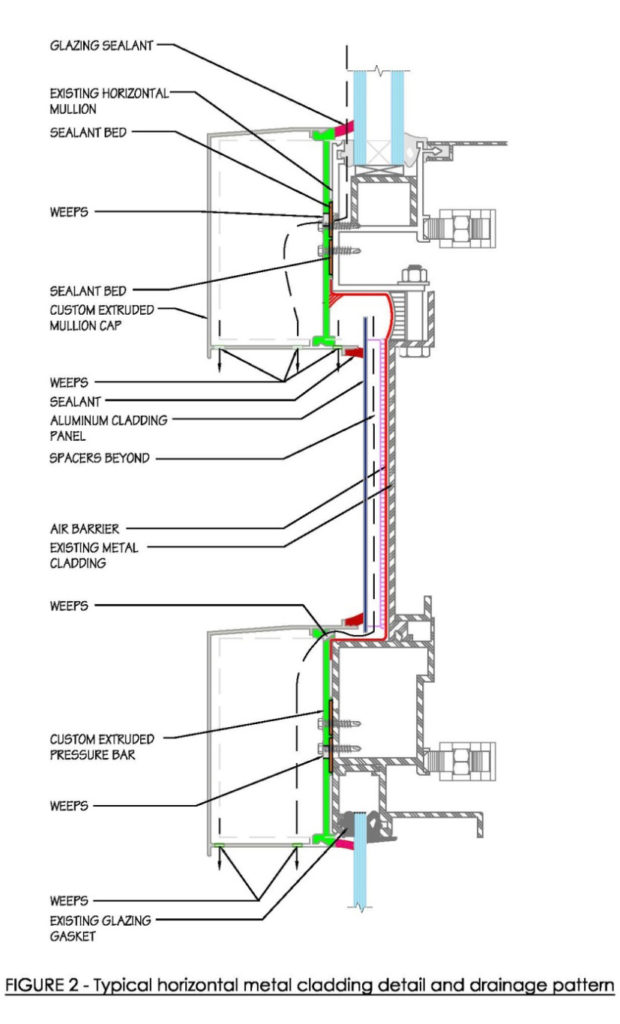 The building owners reported persistent leaks at numerous locations throughout the curtain wall system. After performing an evaluation of the leakage, BTC developed three alternative repair schemes to address the curtain wall system. The selected approach included a retrofit scheme performed from the exterior using custom-extruded aluminum pressure bars and new mullion caps. This scheme also included over-cladding of the barrier cladding system and providing an air/water-resistive barrier within the system.
The design challenges included development of custom extrusion profiles, designing intersections of these profiles with each other, design of pan flashings for louvers that were incorporated into the curtain wall system, attachment of the over-cladding panels without exposed fasteners, and selection of an air barrier that would be resistant to high temperatures expected behind the cladding and also be compatible with the sealant materials.
At the horizontal decorative strip locations, a self-adhesive air barrier would be installed over the existing metal cladding and terminated below the outer lips of the new curtain wall pressure bars. Then, the new metal cladding panel would be installed over a series of vertical aluminum spacer bars. These bars were designed to provide a drainage cavity between the new air barrier and the back of the new metal cladding panels. That cavity was designed to weep to the exterior through the horizontal mullion cover below each strip. In order to avoid fastening the new metal spacers and cladding through the air barrier, structural tape and structural glazing sealants were specified.