August 26, 2016
Jeffrey Levine | Levine & Company | Sanders Laboratory of Physics, Vassar College | Poughkeepsie, New York
Editor's Note: For the next several weeks, we will be highlighting last year's document competition winners. If you want to get involved, think about submitting something for the 2017 Document Competition. But hurry, the deadline is October 31, 2016! You can download all the document competition details in a pdf.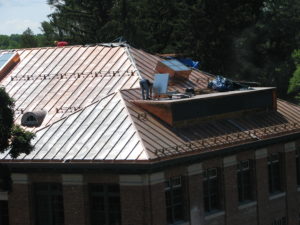 Sanders Laboratory of Physics was completed in 1926. After almost 90 years in service, its original copper batten-seam roof and built-in gutters had reached the end of their serviceable lives and needed to be replaced. Roof replacement was completed as part of a larger exterior and interior rehabilitation project. A new copper batten-seam roof system was installed to match the original as closely as possible, including new built-in gutters, flat-seam copper roofing at two original eyebrow dormers, and slip-seam copper wall cladding and flat-seam copper roofing at three new shed dormers and an elevator penthouse.
Numerous challenges posed by the project required innovative solutions and detailed construction documents to achieve a long-lived, watertight roof system. Many of the details included in the drawing set improved upon existing and industry standard details, including batten end terminations at the eaves, ridges, and hips; roofing and curved valleys at eyebrow dormers; interfaces between battens and dormer windowsills; terminations of battens at flat-seam roofs; and jamb and sill flashings at louvered dormers. Details included drawings overlaid on photographs, axon views, and multistep illustrations in order to convey the scope of work and complexity of the detailing in the clearest possible way.
Levine & Company worked closely with the roofing contractor during construction, reviewing and discussing mock-ups, observing work in progress, and adjusting details when necessary to facilitate installation and accommodate unforeseen conditions. Attention to detail and frequent communication with the contractor helped ensure a smooth construction phase and a final product that is attractive, watertight, and will provide decades of worry-free service life for the owner.
Some of the details of the design improvements include the following:
New built-in copper gutter liners were designed with raised expansion joints, straps, and outlet tubes that permit thermal movement of the gutter liner.
New gutter straps and snow rail brackets were secured to the tops of the battens rather than through the
roof pans, using concealed fasteners and a soldered copper cap.
Copper caps at the bottom ends of the battens were fabricated from three pieces soldered together to create a watertight interface between the roof pans and battens at the eaves, while allowing the roof pans
the freedom to move with changes in temperature.
The interface between battens and dormer sills was detailed such that the roof pans, batten covers, and base flashings can move independently.