By IIBEC Foundation Development Officer Rick Gardner
Tell me about your background and how you got involved in IIBEC (RCI)?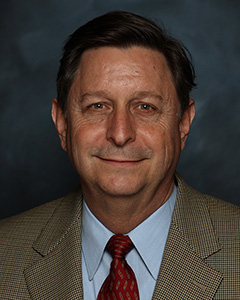 I spent my first 12 years after college in the US Navy Civil Engineer Corps. I thoroughly enjoyed every facet of the experience; all the projects (and locations) were different and helped round me out. There, I was able to see things from the client's perspective. After the Navy, I worked for Kimley-Horn & Associates for almost 10 years. During those years, I did a lot of civil design, some structural design, and ultimately migrated to the forensics team; we were a small piece of a very large firm. By 2003, I found my typical client was calling me, not the firm, so I started Beech Consulting, which celebrates its eighteenth anniversary this coming February.
Rick Moore and I worked together at Kimley-Horn and had also known each other in the Navy. Rick said, "let's do some professional development." So, we went to RCI's BES in Texas in 1997. Immediately I thought, "This is hands on. This is what we do!"
From that point, I sought out RCI/IIBEC continuing education classes, which I've always found more rooted in reality; how things get done in the field, and not overly theoretical (although we need to understand the theory too). I've always appreciated IIBEC's balanced approach.
When I started Beech Consulting, I had more control of my time, so I officially joined in 2003. In about 2013, I was attending the Metal Roofing course with Chris Payne and Chris Giffin serving as instructors. I spoke to Chris Payne during a break and asked him how I could get more involved. As if on cue, he handed me a card with some information on it. Next thing I knew, I was serving as IIBEC Georgia Chapter's Secretary/Treasurer and subsequently worked my way through chapter leadership. I then ran for and have now served for almost two years as Region II Director.
I think my professional experiences as an "owner/client," then as a large-firm consultant and now consulting from a small firm, bring some depth. Also, during my first two Kimley-Horn years, I worked in their marketing department, and for three years, led their Continuous Quality Improvement program. These various roles have provided me with many perspectives.
What do you do during your typical day?
I spend sixty to seventy percent of my time in the field. We work mostly on existing buildings. My business partner, Wade Anderson, is a stellar mechanical engineer. We work both as individuals and as a team depending on the size of the project. We consult on roofs, walls, windows, doors, and also assess how mechanical systems interact with the enclosure. When not in the field, I'm typically working on reports for clients.
We work for property owners and condo associations for mid-rise buildings, where we act as their facilities engineer. We do full enclosure studies for buildings and/or solve individual leak issues. We help clients get the right contractors to their property to match the specific need and correct it. We also do assessments for insurance carriers. Our practice is mostly commercial buildings, but sometimes includes residential. Finally, about ten percent of our annual hours are litigation support of some type.  Our clients are varied, as well as our projects. We assess various roof systems and many claddings, brick veneer, stucco, EIFS systems (synthetic stucco), and we do a lot of moisture testing and assessment.
What are some examples of your favorite projects that you have worked on professionally?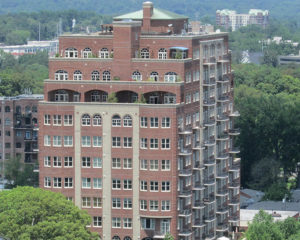 There is an 11-story brick-veneer building in Atlanta, Georgia, constructed over a four-story parking garage called Mathieson Exchange. It's a wedding cake configuration building. Terraces are roofs over living space below. In essence you are looking at all aspects of IIBEC there…below-grade waterproofing, walls, windows/doors, protruding balconies, and several roofs that we help that client keep up with.
Mathieson is representative of my favorite type of work and client. We started there overcoming a lot of water intrusion issues just after the building's initial construction, then over the years, we have helped them evaluate and smartly maintain the building. This past year we helped them complete major re-caulking and repointing of their brick mortar joints. They'll call on occasion and say "there's a leak at a twelfth floor window," and we'll help them evaluate and fix that location…just like we did on a much larger scale about 15 years ago.
Another recent special job is a six-story building in San Francisco. It's over 100 years old, and its mass-masonry walls were rebuilt in about 1912 after the earthquake. We assessed the entire enclosure and then helped the owner figure out the steps to properly restore its rear elevation mass masonry that a previous owner had improperly coated with stucco.  We did a full evaluation and developed a detailed scope of repair and are now collaborating with the owner and a local architect who is developing final restoration specs and getting historical permits for the project.