October 1, 2019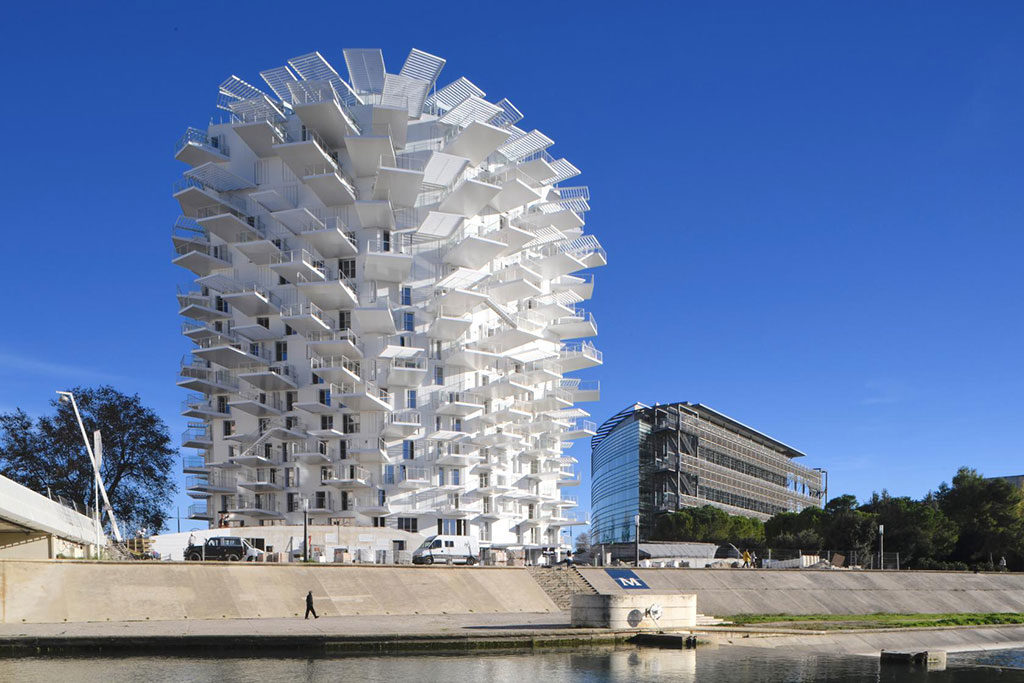 A 17-story apartment building in Montpellier, France, looks a bit like a white porcupine on steroids. L'arbre Blanc, meaning "White Tree," is a unique building with some of the largest balconies avail-able in residential construction. The winner of a competition that was intended to bring more experimen-tal architecture to the city, the cur-vilinear structure is across the Lez River from the Antigone complex. It was conceived by Tokyo architect Sou Fujimoto working with Parisian architects Manal Rachdi, Nicolas Laisné, and Dimitri Roussel.
The kidney-shaped building has 113 luxury apartments—many with cantilevered balconies—some as long as 25 feet out from the building and formed of built-up welded sections and bolted to vertical steel H-beams fixed to the concrete floor slabs. Steel pergolas serve as sun-breakers above the balconies.
The reinforced-concrete column-and-slab structure and enclosing walls rely on faceted planes to bend around corners.
The building includes a rooftop bar and restaurant, and an art gallery is housed in the base, with coworking office space on the floor above.
To view a video of the building, see below. Our French-speaking readers can watch this video about the building's construction: https://www.youtube.com/watch?v=-weeTAqxuoc.