April 24, 2017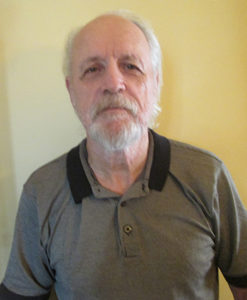 Henderson Retires
After 39+ years in the business, Darrel Henderson has decided to hang up his clipboard and semi-retire. He must have roofing in his DNA, as his ancestors installed slate roofs in England back in the 1800's. He was on the Ontario Chapter Membership Committee in 1997 and was the secretary from 2000-2001. He has lectured for RCI from 2002 until the present day, and he was involved in the creation, along with John Kataila, of the Fire-rated Roof Module for the Building Science Specialist of Ontario (BSSO) Program at the University of Toronto.
Henderson was introduced to roofing by Bruce Russell at Tremco in 1978, and to roof consulting by Doug Fishburn. He still issues the URL lists that began in 1999 and 2006 to his contacts in the industry. He can be contacted at rooftech_services@yahoo.ca.
Sietmann Earns ACI Certification
Senior Building Envelope Specialist Charles Sietmann, RRO, CCCA, CIT, with Building Technology Consultants, Inc., Arlington Heights, IL, has recently become a Certified Adhesive Anchor Installation Inspector through the American Concrete Institute (ACI). Sietmann is a Consultant Affiliate member of RCI and a member of the Document Competition Committee and the Chicago Area Chapter.
Hernacki Hired by Amtech
T.R. Hernacki, PE, has been hired by Amtech's Engineering Services Division. He is certified by the Structural Engineering Certification Board, has achieved Project Management Professional designation, and has over 30 years of experience in structural repair design, fall protection system testing and design, historic renovation, building envelope evaluation and testing, code compliance, wind and impact protection engineering, and product evaluation engineering for structural code compliance. Hernacki is a Consultant member of RCI and was previously employed by Facility Engineering Associates PC.
TRC Hires David Cook
David Cook has joined TRC's Building Sciences & Industrial Hygiene Practice as a senior building envelope consultant and office practice leader in its Arlington, TX, office. With more than 16 years of experience, Cook was most recently a senior project manager for Terracon Consultants. He is Registered Roof Observer and Professional member of RCI, a Certified Level II Infrared Thermographer, and a member of the AIA. He may be reached at 512-673-6121 or cook@trcsolutions.com.
First Quarter Registrations from Jan. 1 – March 31, 2017
| Name | Certification Date | Program | Region |
| --- | --- | --- | --- |
| Dennis W. Mashburn | 1/27/2017 | REWO | Region II |
| Edward L. Lehman | 2/27/2017 | REWO | Region V |
| James A. Copeland | 1/19/2017 | REWO | Region II |
| Michael Phifer | 2/8/2017 | REWO | Region II |
| Randy Worcester | 1/17/2017 | RRC | Region III |
| Scott Hall | 1/31/2017 | RRC | Region II |
| Bryan S. Guess | 1/6/2017 | RRO | Region II |
| Garratt Grenier | 1/24/2017 | RRO | Region VI |
| Hakan Korkut | 3/31/2017 | RRO | Region I |
| James D. Lee | 3/15/2017 | RRO | Region II |
| Jason De Oliveira | 1/30/2017 | RRO | Region VII |
| Jon N. Crumrine | 3/29/2017 | RRO | Region V |
| Joseph M. Bukovec | 1/12/2017 | RRO | Region V |
| Larry Swift | 3/14/2017 | RRO | Region II |
| Linda Song | 3/7/2017 | RRO | Region V |
| Nicholas Richardson | 2/27/2017 | RRO | Region VI |
| Roman Lipiec | 1/30/2017 | RRO | Region IV |
| Ross T. Adams | 3/31/2017 | RRO | Region I |
| Seth Tanner | 3/31/2017 | RRO | Region I |
| Timothy Welch | 1/27/2017 | RRO | Region I |
| Wardell Coutee | 3/1/2017 | RRO | Region IV |
| William L. Lavender | 1/20/2017 | RRO | Region II |
| Corey S. Zussman | 2/6/2017 | RWC | Region III |
| Daniel L. Montgomery | 3/18/2017 | RWC | Region I |
| Sean Connolly | 1/21/2017 | RWC | Region V |
First Quarter New Members: Jan. 1 – March 31, 2017
Name
Company
State/
Province
Type
Ross Adams
Roof Consulting Services, Inc.
CT
Quality Assurance Observer
Jason Andrews
Virginia Tech
VA
Student
Chad Angerstein
United States Gypsum Company
TX
Industry Affiliate
John Applegate
Alta Products LLC
WA
Industry
Edward Ashley
GAF Materials Corp.
WA
Industry Affiliate
Jeffrey Atkinson
Mohawk College
ON
Student
Ricardo Avello
Exclusive Construction Group
FL
Industry
Clint Baer
Ace Roofing, Inc.
LA
Industry
Patrick Baitson
Sterling BEC
AB
Consultant
Matt Bancroft
Bancroft Construction Inc.
CA
Industry
Jarod Barenklau
University of Wisconsin-Stout
WI
Student
Melvin Beagley
Rooftech Consulting Group Inc.
UT
Consultant
Robert Beauregard
Building Technology Associates, Inc.
MI
Consultant Affiliate
Scott Belcher
Virginia Tech
VA
Student
Juan Betancur
Johns Manville
NJ
Industry Affiliate
Shane Borgess
Borgess Inspection Services
CA
Quality Assurance Observer
Alain Bouchard
IRC Building Sciences Group Inc.
NB
Quality Assurance Observer
Seth Bowles
Madsen, Kneppers & Associates, Inc.
CA
Consultant Affiliate
Aaron Brooks
Roof Consulting Services, Inc.
VA
Consultant
Terri Brown
Radco Roofing
NC
Industry
Ron Brunner
JE Dunn
TX
Industry
Pierre-Michel Busque
Busque Engineering Ltd.
BC
Consultant
John Buttrey
Unified Building Sciences
TX
Consultant
Julie Canning
Sika Sarnafil, A Division of Sika Corporation
IL
Industry Affiliate
Anthony Capocci
Anchor Products
TX
Industry Affiliate
Ashley Caraway
P & A Roofing & Sheet Metal Inc.
FL
Industry
Asa Carlile
Acme Cone Company LLC
OR
Industry
Roy Chan
Consumers Choice Property Consultants
ON
Quality Assurance Observer
Dan Cupit
Professional Inspection Services
CO
Consultant
Denise Dana
Reserve Consultants Ltd.
WA
Consultant
Sean D'Angiolillo
Madsen, Kneppers & Associates, Inc.
NJ
Consultant Affiliate
Michael Davis
Grayco Roofing Consultants
TX
Consultant
Owen Davis
McDonald & Wetle
OR
Industry Affiliate
Tim Davis
Davis Consulting Services
ON
Consultant
Daniel Demolin
Foothills Roof Services
CO
Quality Assurance Observer
Timothy Devore
Carlisle Construction Materials
IL
Industry Affiliate
Anthony DiCarlo
Mohawk College
ON
Student
Jay Dougherty
Roof Consulting Services, Inc
VA
Consultant Affiliate
Pat Downey
PROSOCO, Inc.
WA
Industry Affiliate
Mitchell Dudoit
Allana Buick & Bers Inc.
HI
Consultant Affiliate
Mike Dunlap
Polyguard Products Inc.
TX
Industry
Gunars Dzenis
Georgia-Pacific Gypsum LLC
GA
Industry Affiliate
Stephen Elmore
Lakeside Roofing
IL
Industry
Steven Entrekin
Wiss, Janney, Elstner Associates, Inc.
TX
Consultant Affiliate
Ryan Farley
Madsen, Kneppers & Associates, Inc.
AZ
Consultant Affiliate
Dan Fromhart
Madsen, Kneppers & Associates, Inc.
NV
Consultant Affiliate
Ryan Frouws
IRC Building Sciences Group Inc.
ON
Consultant Affiliate
Sarah Gambino
Alfred State College
NY
Student
Kevin Geil
Roofing Sales Associates, Inc.
MO
Industry
Adam Geszvain
Facility Engineering Inc.
WI
Consultant Affiliate
Brandon Gifford
Evolution Architecture
WA
Consultant
Jonathan Gilkinson
Mohawk College
ON
Student
Alec Gilliam
Virginia Tech
VA
Student
Frank Gilroy
Frank Gilroy Professional Services
CT
Quality Assurance Observer
Kenneth Gilvary
Haag Engineering Company
FL
Consultant Affiliate
Jimmy Girolamo
Offshore Construction
CT
Industry
Christian Glaug
Western Specialty Contractors
MD
Industry
Curtis Goldsney
IRC Building Sciences Group Inc.
SK
Consultant
Jonathan Grant
Roof Consulting Services, Inc.
VA
Consultant
Delvecchio Gray
Forensic Building Consultants
OR
Consultant
Ted Green
Armstrong Group Inc.
NM
Consultant
Christopher Haley
ECS Florida, LLC
FL
Quality Assurance Observer
Justice Hallman
ABC Supply Co
FL
Industry Affiliate
David Hansen
GCI Consultants LLC
FL
Consultant Affiliate
Zachary Hansen
University Wisconsin-Stout
WI
Student
Craig Hanson
Jay Ammon Architect, Inc.
FL
Consultant Affiliate
Jack Hanson
Jay Ammon Architect, Inc.
FL
Student
John Harold
DERBIGUM Americas Inc.
OH
Industry Affiliate
Matt Harrison
SC Consulting Group
CA
Consultant Affiliate
Logan Healy
Virginia Tech
VA
Student
Jill Heidorf
Polyguard Products Inc.
TX
Industry
Thomas Hernacki
Amtech Solutions Inc.
CO
Consultant
Jaime Hernandez
MasterCraft Roofing Inc.
WA
Industry
Majd Hijazi
North Carolina State University
NC
Student
James Ho
CMS Building Consultants
ON
Consultant
James Hoag
CRS Sales and Marketing
GA
Industry Affiliate
Joe Hoekzema
Kemper System America
NJ
Industry Affiliate
Michael Hoglund
Building Envelope Consultants and Scientists, LLC
MD
Consultant
Michael Holden
U.S. Forensic
FL
Consultant
Ian Hooper
NPC Commercial Roofing
TX
Industry Affiliate
Ken Hooper
NPC Commercial Roofing
TX
Industry
Zack Hooper
NPC Commercial Roofing
TX
Industry Affiliate
Matthew Hopkins
BLUEFIN LLC
CO
Consultant
Simin ImaniRad
North Carolina State University
NC
Student
Brian Ivancich
Bradley Univeristy
IL
Student
Daniel Jackson
Bell & Spina Architects
NY
Consultant Affiliate
Curt Jaffe
Duro-Last Roofing Inc.
OR
Industry Affiliate
Brian Jones
Roof Consulting Services, Inc.
VA
Consultant
Scott Jones
Soprema Inc.
IN
Industry Affiliate
Ghazal Kamyabjou
North Carolina State University
NC
Student
Matt Keeler
Hydro-Corr Specialties, LLC
NC
Industry Affiliate
Meagan Kikuta
Tremco Roofing
ON
Industry
Gloria Kim
Virginia Tech
VA
Student
Jesse Kinsley
JRS Engineering
WA
Consultant Affiliate
Jacob Knigge
Tecta America Kentucky
KY
Industry
Michael Kohler
Sherwin Williams
OH
Industry
Kyle Korte
Foresight Services Inc.
IL
Consultant Affiliate
Amy Krauss
Roof Consulting Services, Inc.
VA
Consultant
Bryan Krueger
Bryan Krueger Enterprises Inc.
CA
Associate
George Lafferty
FS&L Architects
MO
Consultant
Michael Lampkin
GAF Materials Corp.
CA
Industry Affiliate
Robert Larez
Fidelis Enterprises
CA
Industry
Frank Largen
WTI Services, Inc.
NY
Industry
Ben Legge
VELUX Canada Inc.
ON
Industry Affiliate
Edward Lehman
JE Dunn Construction Group
CO
Industry
Rachel Leonardo
Virginia Tech
VA
Student
Sherwood Liles
Clemson University
SC
Student
Steven Linscheid
Unified Building Sciences Inc.
TX
Consultant Affiliate
Jason Lopez
University of Florida
FL
Student
Sylvain Lortie
Superteck experts-conseils inc.
PQ
Consultant
Chris MacDonald
IRC Building Sciences Group Inc.
NS
Consultant Affiliate
Graham Marsteller
Roof Consulting Services, Inc.
VA
Consultant
John Matthews
Baker Roofing
NC
Industry Affiliate
Dmitry Mayorov
TechnoNICOL Company
Moscow, Russia
Quality Assurance Observer
Bryce McCandless
Semple Gooder Roofing Corporation
ON
Industry
John McCarthy
ECS Mid-Atlantic LLC
PA
Quality Assurance Observer
Clifton McCormick
Hefferlin + Kronenberg Architects PLLC
TN
Consultant
Jonathan McDonell
Virginia Tech
VA
Student
Ed McIntosh
Metal-Era, Inc.
WI
Industry Affiliate
Zachary McManaman
University of Oklahoma
OK
Student
Bryce McQueen
Wiss, Janney, Elstner Associates, Inc.
GA
Consultant
Roger Melvin
Sika Sarnafil
CO
Industry Affiliate
Michael Messing
Messing Construction Co., Inc.
IL
Industry
Mark Miller
Skoler Building Resources
OR
Industry
Anthony Milo
Madsen, Kneppers & Associates, Inc.
CA
Consultant Affiliate
Timothy Milroy
Atlas Roofing Corp.
IL
Industry
Noah Monhemius
EES Group
OH
Consultant Affiliate
Dale Moore
Roof Consulting Services, Inc.
VA
Consultant
Edward Moore
Clemson University
SC
Student
Gilbert Morales
CIM Roofing
TX
Industry Affiliate
James Morrow
RS&M
FL
Consultant Affiliate
Richard Mosco
Wiss, Janney, Elstner Associates, Inc.
CA
Consultant
Patrick Muldoon
Wiss, Janney, Elstner Associates, Inc.
HI
Consultant
John Myers
WA
Consultant
Gregory Neiderer
Walker Restoration Consultants
PA
Consultant
Chris Nelson
Technical Roof Services Inc.
CA
Consultant
Jeremy Newkirk
Madsen, Kneppers & Associates, Inc.
TX
Consultant Affiliate
Anthony Nicastro
Simpson Gumpertz & Heger Inc.
DC
Consultant Affiliate
Cally Niess
Iowa State University
IA
Student
Paula Nyquist
RSP Architects LTD.
MN
Consultant
Thomas O'Brien
S. Thomas O'Brien, LLC
MS
Quality Assurance Observer
Nicholas Oliver
University of Texas at Arlington
TX
Student
Dan Parker
J.S. Held LLC
GA
Consultant
Javier Parral
Terracon Consultants
TX
Quality Assurance Observer
Trey Parsons
Engineering and Technical Consultants
MD
Consultant
John Patterson
Weatherproofing Technologies Inc.
PA
Industry
Michael Petch
Flynn Canada Ltd.
ON
Industry Affiliate
Eric Pfeiffer
GAF Materials Corp.
OH
Industry Affiliate
Michael Phifer
Terracon Consultants Inc.
NC
Consultant Affiliate
Paul Piscoran
Nova Consulting
CA
Consultant
John Posenecker
Building Exterior Solutions, Inc. a Terracon Company
TX
Consultant Affiliate
Darren Pyke
Stantec Consulting Ltd.
ON
Quality Assurance Observer
Hunter Ramsey
University of Oklahoma
OK
Student
Jennifer Reymundi
USG Company
FL
Industry Affiliate
Gerald Ripple
Archdiocese of Seattle
WA
Facility Manager
India Rolfe
NW Professional Roofing Services Inc.
WA
Consultant
Richard Roof
Engineering Design & Testing Corp.
SC
Consultant
Daniel Sanders
Roof Consulting Services, Inc.
VA
Consultant
Ryan Schlei
V&F Roof Consulting & Service
WI
Consultant
Matthew Schofield
Facility Engineering Associates PC
VA
Consultant
Carol Shepherd
NTH Consultants Ltd.
MI
Quality Assurance Observer
Andrew Singeltary
Madsen, Kneppers & Associates, Inc.
TX
Consultant
E. Paul Smause
Atlantic & Caribbean Roof Consulting LLC
FL
Consultant
Gene Smith
AAA Roofing By Gene, Inc.
CA
Industry
Todd Smith
RJH & Associates, Inc.
NC
Consultant Affiliate
Myles Sosnoff
Metal-Era, Inc.
WI
Industry Affiliate
Jose Sousa
MA
Quality Assurance Observer
Thomas Spanley
Prologis
CA
Industry
Rick St. Hilaire
Maine Roof Consulting Inc.
ME
Industry
Joel Stanley
Anchor Products
TX
Industry
Sean Stuart
TX
Quality Assurance Observer
Thomas Susko
The Home Plaster Shop Inc.
CA
Industry
Jose Tavera
Walker Restoration Consultants
TX
Consultant Affiliate
Jason Taylor
IRC Building Sciences Group
AB
Quality Assurance Observer
Jennifer Thomas
Roofing by Fred Gross Construction LLC
NJ
Industry
Ellen Thorp
EPDM Roofing Association
DC
Associate
Luis Torres
Roofmaster International S.A. de C.V.
Queretaro, Mexico
Consultant
Saul Torres
White Lodging Services
IN
Facility Manager
Megan Toumanios
Simpson Gumpertz & Heger Inc.
DC
Consultant Affiliate
Sam Treakle
Roof Consulting Services, Inc.
VA
Consultant
Robert van Dijk
Alliance Residential Company
CA
Associate
Jorge Virgin
Roof Consulting Services, Inc.
VA
Consultant
Adam Walker
Potomac Exteriors LLC
VA
Industry
Doug Weaver
SWD Urethane
AZ
Industry
Kim West
Roof Consulting Services, Inc.
VA
Consultant
Michael Wheeler
Christian Wheeler Engineering
CA
Consultant
James Willits
GAF Materials Corp.
WA
Industry
Barbara Wilt
BLUEFIN LLC
VA
Consultant
Brian Wooten
ATC Group Services
MI
Quality Assurance Observer
Yeo Beom Yoon
North Carolina State University
NC
Student
Chad Zielinski
J.S. Held LLC
TX
Consultant Affiliate