December 21, 2018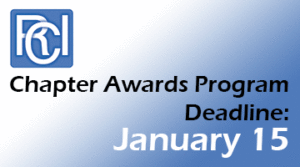 As the end of 2018 approaches, so does the deadline for the Outstanding RCI Affiliated Chapter Awards Program application. By January 15, 2019, the application and necessary attachments from each chapter must be sent via e-mail to RCI Membership Director Alec Jeffries at ajeffries@iibec.org.
The chapter awards program not only provides chapters with recognition at the annual convention and publicity in RCI Interface, it serves as a roadmap for annual operations and bylaw requirements, an archival record of chapter activity, and aids chapter leaders during their annual transition meeting by providing documentation on the chapter's goals, objectives, and achievements. The Chapter Development Committee continues to refine the awards program, and the goal for next year is to transition 100% to an online-based submittal process for uploading attachments and submitting the application.
Ideally, chapters begin recording data in the Outstanding RCI Affiliated Chapter Awards Program application during the first quarter of the calendar year. The chapter's vice president is charged with managing the application process. There are 12 sections in the application defined by topic: Chapter Administration, Finance, Membership, Education, Registration, Planning, Archives, Marketing, Technical Services, Philanthropic, Industry Outreach, and Awards. Each section is scored individually. Scoring ranges from 0-100 points per section. Chapters are required to submit and pass the sections on Chapter Administration, Finance, Membership, and Education. Additional sections may be submitted to increase the overall score and document those areas of operation. Required items are indicated with red text. Items requiring additional documentation are noted as such. Failure to produce documentation will result in no score for that particular item. If additional documentation is not specifically requested, it is not necessary.
Once your chapter's award program application is complete, it must be reviewed and certified by the chapter president and secretary. After the application and attachments are created and e-mailed to RCI, the RCI secretary/treasurer will review each chapter's award application. Chapters will be notified of results and top-performing chapters will be recognized at the annual convention.