December 27, 2016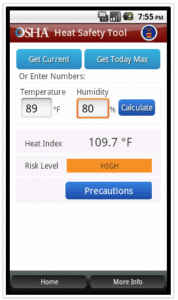 The Occupational Safety and Health Administration (OSHA) has fined Weathercraft Incorporated, a commercial roofing and waterproofing company, $12,471 following the heatstroke death of a 47-year-old roofer.
Darren Laird was installing roofing materials at Helias High School in Jefferson City, Missouri, on August 17, 2016, when he collapsed. The heat index was approximately 90ºF (32ºC). He died the next day after been hospitalized with a core body temperature above 107ºF (41.6ºC).
The employer, charged with the maximum penalty for a "serious" violation, allegedly "exposed employees to the recognized hazard of excessive heat during roofing operations." Weathercraft has received at least five OSHA citations in the past, for failing to provide fall protection and fire protection.
"This tragedy occurred on this worker's third day on the job," said Karena Lorek, OSHA's acting director in Kansas City. "His needless death underscores how critical it is for employers to ensure that workers are acclimated to heat conditions. A review of heat-related deaths across industries finds most workers were new to the job and not physically used to the constant heat and sun exposure. Workers should have frequent access to water, rest, and shade to prevent heat illness and injuries during the hot summer months and during hot indoor conditions and be trained to recognize and respond to the signs of heat-related illness."
"If there is any indication of heat stroke, immediately call 911, move the employee to a cooler location, and provide water to try and reduce the core body temperature," Lorek said. "In the summer of 2016, nationwide, OSHA conducted more than 200 heat-related inspections and…13 fatalities."
In 2014, 2,630 workers in all industries suffered from heat illness and 18 died from heat stroke and related causes while on the job, according to OSHA.
OSHA has a "Heat Safety Tool" app that provides the heat index, available in English and Spanish for Android and iPhone devices. Find it at: https://www.osha.gov/SLTC/heatillness/heat_index/heat_app.html.