July 15, 2019
Foundation Development Officer Rick Gardner Receives Think Apex Award
RCI Foundation Development Officer Rick Gardner received an award for his volunteer work for the town of Apex, NC, where he resides. The Think Apex Awards allow town officials to recognize individuals, businesses, and non-profit organizations for their dedicated service to others and the Apex community. The Think Apex Awards highlight members of the Apex community who have demonstrated an exemplary commitment to others, focusing on the well-being of the Apex community during 2018.
Here was the nomination:
Rick has served as a volunteer on the Apex Festival Commission/Peakfest Committee every year since 2004. This marks his 15th year as a volunteer coordinator of entertainment for Peakfest. From bands to dancers to balloon twisters and more, Rick works hard all year to make sure Peakfest entertainment has something for everyone. He is on the phone/email/Internet/social media most of the year searching for talent and negotiating and securing arrangements for that first weekend in May. He takes great pride in serving our town, and enjoys being part of the Peakfest team that makes our biggest annual celebration a success!
Caroline Lewis Joins Membership and Registrations Team
Caroline Lewis joined IIBEC on January 3, 2019, as a Membership and Registrations Specialist. Building enclosure consulting was a world she didn't know about before she started here. Once she started learning about what everybody did and what our members do, she was "shocked" that she didn't know it existed. She says everybody at IIBEC HQ is "just super friendly. I felt like I was really part of the team even before I was permanent."
Lewis had an interesting variety of jobs before joining IIBEC. She was an office manager for a restaurant in downtown Raleigh. She handled all of the business aspects of running a restaurant, like payroll, budgets, etc. Before that, she worked as a one-on-one aide with a teenager who is on the autism spectrum. She has also worked in a pharmaceutical company and in a nursing home, running memory care activities.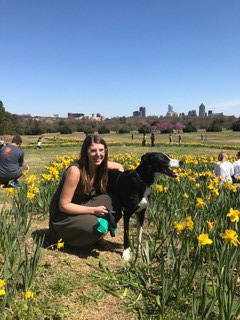 When asked how working at IIBEC compares to her previous work life, she was enthusiastic. "Without sounding bad, I like it so much better [at IIBEC]. It's less chaotic. Even though I started at a very fast time of year—getting ready for convention and the name change—I like it better here because I'm able to do my job and I'm able to see the effect that it has, and I like that."
Lewis is a Raleigh-area native from a big family. She has three brothers and a sister. Her mom and most of her side of the family live in the Outer Banks, which Lewis says is "something that always makes me jealous in the summertime while I'm in the office." Her dad is still in Fuquay, just outside of Raleigh. She has a brother who's teaching in South Korea and another brother in Sacramento, CA. She stays in touch with them via video chatting.
She has an active dog, a border collie mix who needs a lot of exercise, so she frequently takes him out hiking, to the park, walking, and generally playing.
Lewis also likes to bake, and sometimes makes custom-decorated cookies. Of this hobby she says, "It takes forever, but it's super fun. And I also just like baking in general. That's what I do in my free time."
"I'm happy to be at IIBEC. There have been a lot of changes in my short time here, so I'm excited to see how it keeps on changing." She can be reached at clewis@iibec.org.
Roller Takes Reins of Education
Jennifer Roller joined IIBEC on January 10, 2019, as the Director of Educational Services. She came to us from software analytics company SAS, which she said was "nice" and had a great company culture, but she didn't love her job there. "I felt I wasn't being challenged in my role, and I really wanted to do some cutting-edge things—things that I thought we could do here at IIBEC. Everybody told me, 'nobody leaves SAS.' And I said, 'Well, I am leaving.' At this point in my career, I didn't want to settle and stay there for the next 30 years and do something I wasn't passionate about. I wanted to come on and be a director at IIBEC so that I could make positive change and bring us into the digital space. At SAS I didn't really have that type of autonomy."
Prior to SAS, she worked for a nonprofit that was founded by the Clinton Foundation and the American Heart Association for five years, doing very similar things to what she does now for IIBEC. She is glad to be back at a nonprofit as she has a master's degree in nonprofit management and wants to really expand her skills in the space.
"I feel IIBEC is at the forefront of nonprofit spaces, so that's great. I think it's exciting here and we're able to make decisions and implement them very quickly, which is the way I prefer to work. At my previous job, you would spend a month talking about something, and then you would have to spend time talking to other people before you could implement it. Here there is a much faster pace, and I prefer that."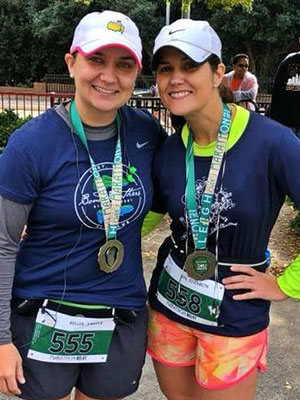 Roller is originally from Halifax County in southern Virginia, where she grew up on a tobacco farm. She moved two hours south to the Raleigh area three years ago. About six months later, her sister's family moved to the area as well; and as of last month, her parents live here, too. She also has a younger brother who lives in Richmond, VA, and plays mandolin in a band. She says her dad is very musical and plays guitar, and she grew up around music while her mother passed along her passion for sports and the outdoors. Her sister works near enough to IIBEC's offices that they're able to go out to lunch together. "It's really nice to be so close."
In addition to her human family being local, she has a dog named Vivian (after Julia Roberts' character in Pretty Woman).
Roller has many interesting and active hobbies. She was formerly a nationally registered emergency medical technician (EMT) and has been to Honduras five times and Haiti once (in 2010, after the earthquake) on mission trips. She wanted to be an EMT in order to be able to offer more help to those in need.
As for other hobbies, she said, "I'm a country girl at heart; I like fishing and hunting. I love outdoor activities and am very happy that I have a boyfriend who loves them too as he knows all the great local spots. I like to go kayaking and I run every Tuesday at a run club. I've run in some local races and I ran a half-marathon in Kentucky once called Run the Bluegrass. They gave you a beer on the 12th mile which really helps with motivation."
In looking to IIBEC's future, she said, "I really do think we're going to be able to do some innovative things here. I think this organization is going to evolve and grow like we want it to, increasing its diversity, making us even more relevant in the building enclosure industry."
Roller has a bachelor's in liberal studies from Longwood University, and a master's in nonprofit management from the University of Central Florida. She can be reached at jroller@iibec.org.
Staff Shuffle
Chris Barnes has been promoted to director of marketing and sales. He has been performing double duty over the past months by graciously assuming responsibility for many of the sales-related tasks. Barnes will continue to use his expertise in marketing, but IIBEC will begin the search for a new team member to assist in furthering our marketing efforts.
Senior Director of Technical Services Wanda Edwards has resigned from IIBEC. We (the communications staff) will definitely miss her keen technical acumen. IIBEC is currently searching for her replacement.
CEO/EVP Brian Pallasch, CAE, has joined the staff as of June 10, 2019.
Micki Kamszik has retired after 23 years at IIBEC.
Former Director of Finance Tammy Patterson is also no longer a member of the IIBEC staff. Financial firm CLA will be handling IIBEC's accounts. They can be reached at accounting@iibec.org.
Interviews are still underway for the position of Executive Assistant to the CEO. Filling said position will allow Tara Wilson to devote her full attention to her new role as manager of region and chapter relations.