November 7, 2016
By Kristen Ammerman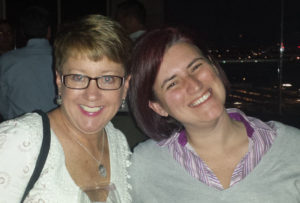 Her LinkedIn profile said "Teacher, Writer, Geek"; her blog said "Kate Springle Lempka, Word Nerd, Renaissance Woman"; and she looked quite approachable online in her T-shirt and purple hair. Plus she had a master's degree in broadcast and online journalism.
We were looking for a social media nerd who could help us put our publications online and could also edit. So in May, we hired Katherine "Katey" Lempka to the newly created position of Assistant Director of Publications.
Katey's main role at RCI is to gather, edit, format, and upload RCI news to the RCI newsfeed; to create the monthly digital RCI Interface flipbook edition now disseminated via e-mail; to maintain RCI's social media presence; and to assist Director of Publications Kris Ammerman in general.
Born in Virginia and raised in a largish family in a smallish town near coastal Maryland, she discovered writing in the third grade, and "since then, I've found myself making up worlds [and] imagining characters." Later, "I stumbled into editing and discovered I was good at it…[and] I enjoyed it. It was like reading, squared."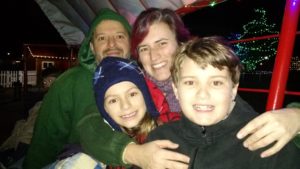 Katey earned her BA in English with a writing minor from the University of Maryland, Baltimore County. There, she taught herself HTML with the help of "compsci" friends. (This is only one of the new jargony words Katey has introduced us to. Most of the others have to do with web stuff.) After two years in Boston while her ex-husband studied for his degree, the couple returned to Maryland and Katey earned her master's in broadcast and online journalism from the University of Maryland at College Park. After finishing her studies, she moved again, back to the small town where her parents and some siblings still lived. She and her ex started a business building websites. In addition, she taught computer classes part-time at a community college – mostly to senior citizens. ("This is a mouse. See this flashing cursor on the screen?")
She segued from teaching seniors how to use computers to teaching seventh graders language arts and playing piano for the students' choral concerts. ("I thought I'd want to teach high school, but I liked middle school. You can still save some of them in Middle School.") After two years of teaching English, Katey's then-husband accepted a job in Raleigh, NC, and the couple moved south.
Two sons were soon born in rapid succession: Tristan, now nine; and Marshall, eight. She worked part-time for Richir Outreach, doing web design and publications for nonprofits, and then sold crafts at Michael's for a while. She now spends a lot of time hanging out with the kids (she shares custody with her ex), playing video games, and doing crafts.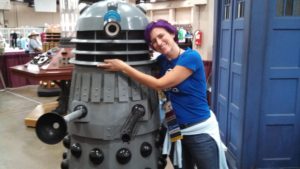 Somewhere amidst the child rearing, teaching, and web creation, Katey's nascent interest in things sci fi/fantasy went to another level when she "discovered the whole convention scene." If there's a "comicon" or renaissance fair within driving distance, she will be there, boys and/or boyfriend Jonathan in tow. Her favorite part? "I like learning. I like listening to authors talk about their craft…the logistics of writing about multigenerational spacecraft and how you'd have to create it engineering-wise." Yep, she's a geek.
"What I appreciate about this job: I'm learning new things, which I love to do, and I get to read… Social media stuff doesn't feel like work. I like meeting people and connecting and social media is the online version of that… I like being at an organization that is about learning, too, because it's something I'm passionate about. [At RCI] we encourage people to keep up with the latest info, and that jibes with my own sense of what's important. I'm having a great time," Katey says with a smile beneath her purple hair.