October 1, 2018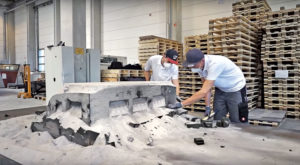 Researchers at
ETH Zurich University
in Switzerland have developed an innovative 3-D sand printing technique with which they have fabricated their first full-scale concrete slab. The 80-square-meter (861-sq.-ft.) slab at the DFAB House, dubbed the "Smart Slab," carries a two-story timber unit above it.
The intricately designed ceiling maintains load-bearing characteristics with precision narrowed down to millimeters. The software coordinated and recorded all the parameters of the room. After the forms were created, the sand mold was sprayed with fiber-reinforced concrete, creating an organic, ribbed surface. The team then cast the remaining concrete into the timber form-work, creating the final form. Following completion, the mold can be dismantled and reused for other projects.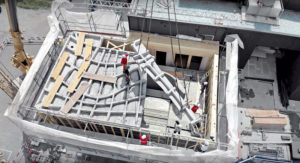 Eleven segments were allowed to harden for two weeks, and then they were transported to the designated site and installed using a crane and steel cables to pre-stress the concrete mold into the structure. View a video of the process below.