March 1, 2021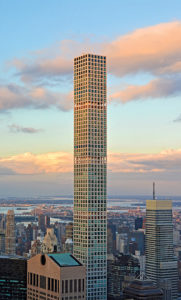 The supertall tower at 432 Park Avenue, New York City, was the tallest residential building in the world when it was built in 2015. Extremely tall, narrow "pencil" towers have been popping up in Manhattan's skyline. According to The New York Times, more than 20 buildings that are more than 1,000 ft. tall have been built or planned since 2007, and many are experiencing trouble. At nearly 1,400 ft. tall, 432 Park Avenue has only one apartment on each floor. Two-story electrical breaks allow the wind to go through at intervals every 12 stories. Six years after it was built, residents have expressed a spate of complaints, ranging from flooding, to nonfunctional elevators, to excessive noise. Multiple incidences of flooding from purportedly varied causes have occurred, causing an estimated $500,000 in damage to one apartment alone. The walls reportedly "creak like the galley of a ship." This sound is common in tall buildings as they sway in the wind, a problem that is even more acute in very tall, very thin buildings.
A 1,200-ton tuned mass damper was installed near the top of 432 Park Avenue to counteract its sway. You can see the damper in action in this video: https://tinyurl.com/jf2jmb34, taken by Terri Boake of the University of Waterloo.
A group commissioned by engineering firm SBI Consultants to study mechanical and structural issues reported initial findings of failure to "conform with the developers' drawings" in 73% of mechanical, electrical, and plumbing components.
— The New York Times, Treehugger