June 1, 2020
Ten years following IIBEC's (then RCI's) founding, the association claimed 546 members "in a time of financial problems," according to then- president Richard Horowitz. Its membership categories were expanded to include Affiliated members and Government Liaisons.The first edition of the RCI Directory of Roofing Professionals was published. The association's educational offerings included Basics of Roofing, Basic Roof Consulting, and Advanced Roof Consulting.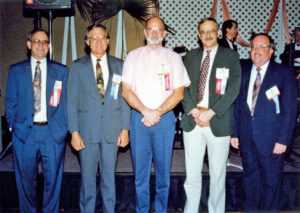 Paula Baker, who was hired as the sole staff member in 1988, resigned as executive manager in March 1993 as Joe Hale became president. John Newark, previously hired to develop the Office of Information and Technology, was named as the new executive manager. Other employees were Jeanette Bottitta and Elaine De'Leon.
Founder Bob Lyons was honored at the convention, and Barry Krum and Robert Martin were named as Fellows. Outstanding Volunteer Awards went to Rick Cook, Phil Dregger, Chris English, Joe Hale, Lyle Hogan, Sam Huff, Barry Krum, Cal Roche, David Siple, and John Willers.
RCI held its first joint liaison meeting with the Single Ply Roofing Institute (SPRI) in October in Boston, MA. SPRI president Jim Mollenhoff opened that meeting, attended by Joe Hale, Bill Marcum, and John Newark from RCI.
RCI announced its inaugural Mid-Atlantic Building Envelope Conference, to be held in October 1994.