September 10, 2023
By Christian Hamaker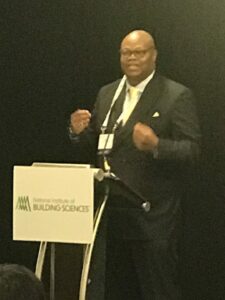 Building industry professionals including contractors, architects, and scientists from both government agencies and the private sector turned out September 5–7, 2023, in Washington, D.C., at the National Institute of Building Sciences' (NIBS) Building Innovation Conference, where they learned about the latest innovations in the built environment. Sessions focused on building resilience, technology, and performance and sustainability.
The conference kicked off with a panel discussion, "The Future of the Workforce and Workplace," featuring moderator Kimberly Jones, associate provost for faculty affairs, Howard University, and panelists Cheryl Lyman, executive director, Ohio Facilities Construction Commission; Nancy Novak, chief information officer, Compass Datacenters; and Peter Templeton, president and chief executive officer, US Green Building Council.
Jones noted that companies and employees have embraced virtual collaboration tools and shifting project timelines, and that the results have been positive. "The application of digital tools during COVID made a big difference," Novak said. "We're able to do a lot more."
Lyman, acknowledging she was speaking as a representative of a state agency, noting that such agencies are not considered "early adopters" of new technologies. Nevertheless, spurred by her tech-savvy employees, she said "we hope we're adopting and adapting" to new technologies used by other building professionals.
Technology uptake is a process for different generations of workers, but Lyman said worker retention has become a pressing concern. Not only is the private sector an attractive competitor for her employees, but other agencies also compete for the skilled workers her commission needs.
Templeton said "employee engagement has suffered" in recent years, so he has prioritized employee well-being in an effort to recruit and retain workers. Novak, meanwhile, said she's focused on hiring women—still underrepresented in the industry. "I think there's opportunity, if you're intentional about it, to attract that talent," she said. "We just want people who love what they're doing. Our people are there to take down the barriers. Women are pretty good at that."
On the subject of compensation, Novak said that success isn't the only metric for rewarding employees. She said she makes a point to celebrate failures too, distributing Wile E. Coyote Awards to workers who have experienced failure but have also learned a valuable lesson along the way.
The Role of AI
During "The Intersection of AI and Building Sciences: A New Era of Intelligent Infrastructure," Roger Grant, vice president of building technology at NIBS, said that AI, in conjunction with older technologies like building information modeling, can increase efficiency, control construction costs, address workforce problems, and increase construction productivity—the latter a major concern, as construction has shown  lower productivity growth than have other sectors of the economy.
Kimon Onuma, president of Onuma Inc., showed how he could create quick images with AI and how the technology can be incorporated into digital twins and business process models. "It's not perfect, but it's important to use," Onuma cautioned about AI. "You have to keep eyeballs on it," but it has improved immeasurably as a technology, he said.
"Deep Green, Market Rate, Net Zero: How ASHRAE's New Global Headquarters Renovation Achieved All Three," recapped the renovation described in the session title. Greg Walker, founding partner with Houser Walker Architecture, joined with Stanton Stafford, principal and office leader with Burro Happold, Atlanta Studio, in recounting ASHRAE's commitment to sell its old property in 2018 and hire a design team in February 2019, with the goal of inhabiting a new property by fall of 2020. Not only did ASHRAE desire a safe and affordable property, but it wanted its new headquarters, built in the 1970s, to exceed the ASHRAE standard for High Performance Buildings while also achieving net-zero energy.
The team used baseline analysis of the existing building, followed by a climate profile and a sensitivity analysis of wall insulation, roof insulation, and air-infiltration rates, among other enclosure concerns, and it finished substantial completion and testing of the updated building in December 2020—two months late, due in part to the covid pandemic.
Building design was the focus of Paul E. Totten's "Designing for Our Future: Climate Forward Design" presentation. The national practice leader for building enclosures at WSP, Totten said, "We need to understand that the climate war is over, and … our future does not look well. The climate is moving faster than the code-body can define it," Totten said.
Totten listed various code considerations that need to be addressed include wind buffering and flood proofing, as well as the use of more recent data and future mapping of climate-ready codes.
Two Crises
Thomas Troeger, chief executive officer of REHAU Americas, told attendees at his session, "YES! We Can Make Quality, Affordable Housing That's Sustainable: Innovations That Are Driving Sustainability and Affordability," that "we have two crises" today: the climate crisis but also an affordable-housing crisis. Troeger discussed numerous projects he's worked on that make affordable housing both energy-efficient and appealing by stressing a lifetime-cost approach—with higher upfront costs but greater long-term savings—rather than a short-term-cost outlook.
Paul Kuehnel, product director at Odeh Engineers, presented "Architectural Engineering: Understanding Our Partners Is the Key to Success." Kuehnel defined the profession as engineering with a focus on the built environment—with curriculum specifically related to the design of buildings—and with a foundational knowledge in architecture. That knowledge can take architectural engineers into numerous areas of specialization, including enclosure consulting.
The conference's opening keynote speaker, Albert Anoubon Momo, vice president and executive director at geospatial company Trimble, reviewed different geospatial technologies—GIS/Spatial Analytics, GNSS & Positioning, Earth Observation, and Scanning—and the improvements and efficiencies these can bring to building projects.
Day Two
Solomon Greene, principal deputy assistant secretary for policy development and research (PD&R) at US Department of Housing and Urban Development (HUD), gave the Day Two keynote, covering the history of HUD and its efforts to embrace technology that can drive offsite construction and facilitate growth in resilient, affordable housing. Greene said a simple equation—Innovation + Evidence = Impact—demonstrates what HUD has learned over the last several decades in the area of building technology.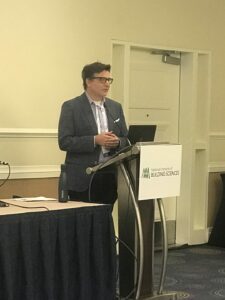 "An important part of our job is to [communicate] how technical innovations affect people," Greene said of PD&R's work. To that end, earlier this year NIBS joined with HUD to release the Offsite Construction for Housing: Research Roadmap, which addresses the research needed to overcome challenges to offsite construction.
At "The Role of ESG in Enhancing Building Performance & Value," Sara Feldmann, president of ESG Network Association, moderated a panel discussion with Amy Carenza, chief commercial officer of ActivePure; Matt Snyder, CEO of ESG Property Consultants; and Michael Zats, manager of US EPA. The panel tackled ESG considerations that impact a building's overall performance, specifically in terms of energy efficiency, water conservation, and waste reduction. Snyder said he tackles the issue from an asset-management viewpoint, with the goal of minimizing costs in managing the building in light of the needs of its occupants. "A lot of elements cross over," Snyder said. "There's an 'E' element, an 'S' element, and a 'G' element."
Asked about how financial institutions are integrating ESG factors into their decision-making processes, Carenza said "your highest-quality tenants are ESG-focused," leading to a new tenant-led focus for building projects anchored in ESG principles. "You have more and more customers saying, 'This is important.'" She cited a recent study showing that 43% of respondents said they would move to a new home that would improve their wellness. But Zatz cautioned that survey responses don't always represent whether people will "put their money where their mouth is." He said the challenge is to get the benefits of wellness to people without the current added costs associated with improved wellness of facilities.
Precast concrete was the focus of "Innovations and Operations: Development in Sustainable Precast Concrete," presented by Jim Schneider, executive director of the PCI Mountain States chapter. "We have issues with carbon
in concrete," Schneider said. With estimates of 4 billion to 10 billion tons of concrete produced globally each year, "we need it, but we need to make it less impactful to the environment."
Schneider pointed to numerous developments in materials that have proven effective in addressing the carbon problem, as well as to newer cement-replacement materials like biochar, which reduces the carbon impact of concrete, and calcium carbonate aggregates, which can reduce CO2 by 40%.
IIBEC was one of more than 20 sponsors of the Building Innovation Conference.