September 1, 2018
Investment by venture capitalists in construction technology (ConTech) for the first six months of 2018 has outpaced last year's total amount by 30%, according to Jones Lang LaSalle Inc. (JLL). Some $1.05 billion has been invested globally. This investment outpaces overall tech startup growth in the U.S.
Construction, according to a recent McKinsey study, is one of the least digitized sectors in the world (second only to agriculture and hunting). Currently, software, computers, and technology are not universally adopted in the construction industry, but new businesses are aiming to change that.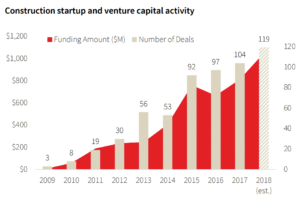 And with the dearth of skilled construction workers, cost fluctuations aggravated by materials prices affected by trade sanctions (materials costs have grown 5.6% over the last 12 months), and a mixed bag on productivity improvements, the industry has created an opportunity for technological changes.
According to the analysis by JLL, approximately 120 technology-focused startups in ConTech will benefit from the new infusion of cash. Many of these are project management purveyors and collaboration software developers, while others focus on off-site techniques and mobile-centric startups.
Three of the companies are "unicorns," already valued at $1 billion or more: Katerra is a tech-nuanced, building prefabrication business; Procore Technologies aims to optimize workflows through cloud capabilities, mobile platforms, and dedicated design software; and Uptake is involved in "big data" and artificial intelligence.
Read the report here: http://www.us.jll.com/united-states/en-us/Research/US-The-state-of-Construction-Tech-2018-JLL.pdf
— Jones Lang LaSalle