August 1, 2018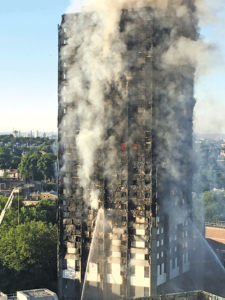 Nearly a year in the making since the disastrous Grenfell Tower fire of June 2017, Dame Judith Hackitt published her long-awaited independent review of building regulations and fire safety in Great Britain in May. The final report, commissioned by the government, concluded that outlawing the use of combustible materials on tall buildings would not address the "root causes" of risk.
Prime Minister Theresa May, however, told members of Parliament in June that she intended to go further, saying the government was "minded" to ban combustible materials in cladding on high-rise buildings.
Among Hackitt's recommendations was to create a new regulator for the design, construction, and maintenance of high-rise residential buildings to "drive real culture change and the right behaviors."
Prior to Hackitt's official report release, a confidential report carried out by building research company BRE Global for the metropolitan police blamed issues with the 2014-16 refurbishment of the building for the spread of the fire, which killed 71. The combustibility of the aluminum composite material (ACM) cladding was one of the building deficiencies identified in the report, along with deficient fire stops, ill-fitting windows, absent internal door closers, and poor firefighting facilities.
The Royal Institute of British Architects (RIBA) has called for a ban of combustible cladding higher than 18 meters, compulsory introduction of sprinklers, and at least two escape routes in residential buildings taller than 11 m.
— RCI magazine and ENR