July 24, 2017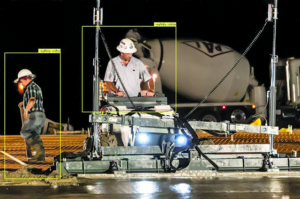 A newly developed software can film a jobsite and automatically determine those not wearing hardhats and safety colors. Smartvid.io Inc. has developed Very Intelligent Neural Network for Insight and Evaluation (VINNIE), which recognizes when people are present in jobsite images and cues those who may be missing safety gear.
Still in development, the software is a machine-learning artificial intelligence system that will continually index images—such as on jobsite monitoring videos–and place "smarttags" on pictures and video frames based on visual and audio content. Josh Kanner, the company's founder, says managers can come into the office and ask the program, "Show me all the places where you see a person who is missing a hardhat," and then know which specific, actionable items need to be addressed.
A "freemium" version of the software will be available to the public in 2017, developers state. Visit https://www.smartvid.io/industrial-video-blog/who-is-vinnie.
— ENR