October 8, 2019

Live Stream Education by IIBEC is here!
You may be asking, what is live streaming, and why does IIBEC think it's important? Live streaming is the broadcasting of a real-time, live video to an audience over the internet. All you need in order to be able to watch is an internet-enabled device, such as a laptop or desktop computer. IIBEC is excited to offer its first-ever live stream option for those who cannot attend the Roof Technology & Science I or Roof Technology & Science II courses this November. This online option allows you to participate in these in-person IIBEC courses without ever leaving your home or desk, and you will be able to get the same experience as attending the in-person course.
"This is a pivotal moment in time for our organization," explains Director of Educational Services Jennifer Roller. "We're all leading busy lives, and taking the time to travel to a course is just not possible for everyone, while many don't have this in their budgets. We at IIBEC want to make our education as accessible and digestible as we can, and many learners today need that flexibility."
What are the benefits of live streaming?
It's just like being in a class—all the content is delivered in a two-day period.
There are no travel costs.
A link to access the entire course is delivered to your inbox, and after the event, you will be able to access the recording for one calendar year.
Participation is just as if you were in class—you'll be able to see the class and ask questions as if you were there.
How will it look?
Below is a sample of how the screen will look while you stream the class. You'll be able to view the presenters as they share valuable knowledge along with the presentation slides.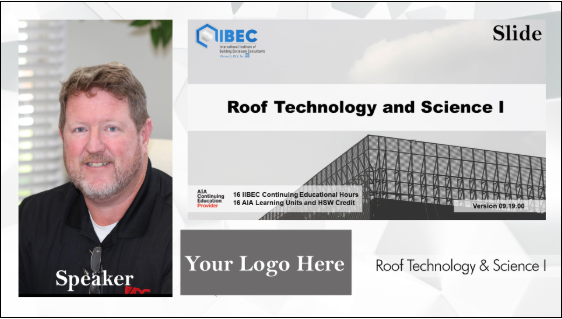 Ready to sign up? Click here!
Roof Technology and Science I Registration
Roof Technology and Science II Registration
*If you're looking to have a viewing party at your office location, contact us to purchase a discounted bundle!
Interested in sponsoring the live stream?
Extend your company's exposure for years after the event.
Amplify your presence in the building enclosure industry.
What's included with the sponsorship?
Company logo placed at the bottom of the screen (where you see the gray box) when not in the full-screen slide mode.
One 30-second commercial video will be placed at the beginning of the stream.