December 1, 2018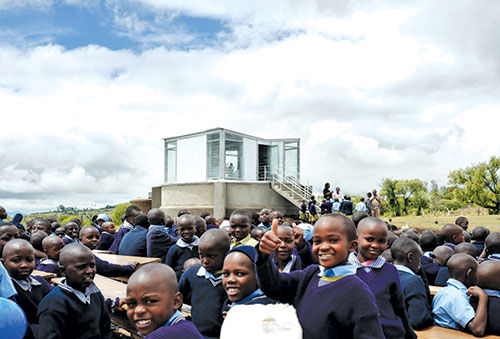 An abandoned rainwater collection tank was transformed into a children's library in a small farming community in the Nyeri West region of Kenya. The project was designed by San Francisco firm Natoma Architects and bankrolled by the Nobelity Project, an Austin, Texas-based group that builds school infrastructures.
The organizer's cofounder, Turk Pipkin, conceived of the project in the 70-year-old tank near the village's classrooms—former cattle sheds.
The building is made of corrugated steel sheeting above the brick foundation. The inverted-pitch roof feeds a small receptacle that collects rainwater. Bookshelves are built into perimeter walls, and louvered glass behind wire mesh at the corners admits daylight and breezes.
Watch a video on the library's construction and how the community filled it with donated books below.